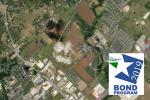 On February 11th, City Council members by unanimous vote called for a May 4th city-wide bond issue. Proposals consist primarily of road improvements and public safety capital projects. The bond issue also includes Phase 1 of a future outdoor sports park and an expansion of the Westside Community Center for increased library services.
The bond issue is the result of nearly a year of meetings by a city Council appointed 23-member task force, 16 public meetings, and funding of professional engineering reviews on all projects under consideration. City staff estimates no tax rate increase will be necessary fund the bonds if passed by voters.
A political action committee, Vote For New Braunfels, has formed. The treasurer for the PAC is Rusty Brockman.  The goal of the group is to help educate voters and to urge them to vote for all four propositions.