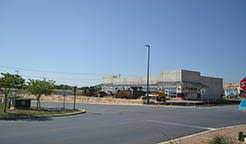 At the July 10 Foundation all-member board luncheon, attendees received at each place setting a page listing highlights from the April-June timeframe  (see attached).  
NBEDC staff responded to a net 9 new leads and are involved with another 23 "still active" leads or prospects.  Taskus is building out their space at the Heritage Business Center #1 for their business resource center, the nearly 400,000 sf STREAM spec industrial building has seen a lot of foot traffic and interest, the new Parkview Plaza office building is ready for tenant build out, the Loop 337 widening project is ahead of schedule, and more. 
Investment in the Foundation help make possible staffing for local economic development efforts as well as targeted marketing activities.