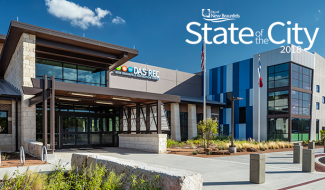 In what has become an annual tradition for the Greater New Braunfels Economic Development Foundation, City Manager and Economic Development Foundation Treasurer Robert Camareno will present the annual "State of the City" at the quarterly luncheon on October 8th.
This event will be the largest of the year at the McKenna Events Center, with approximately 300 expected. GNBEDF members and guests are encouraged to purchase a table sponsorship. The GNBEDF will offer one Presenting Sponsor and several Event Sponsorships as well.
Foundation staff will prepare an executive summary of the presentation in magazine format for distribution to attendees at the event.
To Register, click here