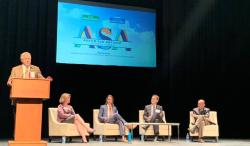 On September 25 in the New Braunfels Civic Convention Center, the Austin-San Antonio Growth Summit set attendance records with over 500 attendees. The New Braunfels EDC was the Title Sponsor.  New Braunfels EDC Executive Director Michael Meek joined Greater San Marcos Partnership Chairman Patrick Rose in welcoming the crowd.

The emphasis at the Growth Summit was on the evolution and growth of historic downtowns in the Corridor. Architect Andrew Douglas of Douglas Architects was a member of the panel and spoke about the South Castell Visioning Project adopted by City Council last December. Of the eight downtowns featured, the New Braunfels downtown had by far the most vibrant evening environment.

Another benefit of the Title Sponsorship was the advertising space given to the New Braunfels EDC in recent issues of both the Austin and San Antonio Business Journals.  Regional architects, engineers and developers learned more about New Braunfels at the Growth Summit, which will lead to further opportunities.