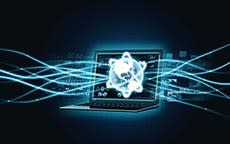 At the July 10 Foundation all-member board luncheon, New Braunfels Assistant City Manager Kristi Aday updated attendees on the broadband-fiber expansion project.  Begun in the NBEDC three years ago, the goal is to have more affordable and expanded fiber optic availability in the business corridors of the city.
Magellan Advisors were retained to create a suggested path forward in 2016.  Results from a local survey showed a high level of dissatisfaction with current provider offerings and cost.  A work group consisting of NBU, City, NBEDC, and Chamber officials have been working on a plan for a public-private partnership (P-3) with a provider. 
The preferred model would be to have a certain level of public infrastructure investment as part of the agreement in return for expanded and more affordable fiber-broadband from a provider.  Aday stated that an RFQ would be distributed the week of July 16 with a deadline for responses by August 20.  In September a review committee will select finalists and interview them.  Negotiations would commence this fall with the top finalist.