By Steve Knight The Herald-Zeitung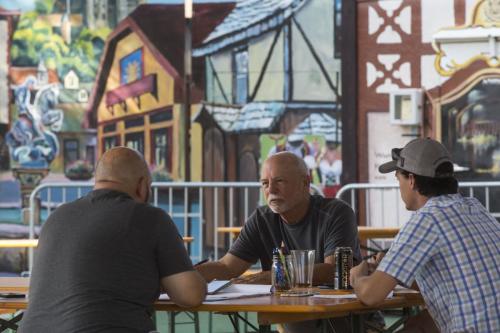 New Braunfels businessman and restaurant owner Ron Snider, known for his work rebuilding and revitalizing downtown, died on Friday. He was 70.
Snider was born on Sept. 28, 1950. According to a previous Herald-Zeitung story, he grew up in inner-city Indianapolis, Ind., and said he traced his love of old buildings to those years.
Describing himself as a "serial entrepreneur," Snider had worked to rebuild downtown New Braunfels since he came to town in 1982 when he began a business building wooden playground equipment. He opened the New Braunfels Smoker Company in 1989, a barbecue manufacturing company, which he sold in 1997.
It wasn't long after Snider settled in New Braunfels that he and his partner, Darrell Sollberger, began buying buildings downtown.
One of the first buildings was the Seekatz Opera House, which at the time housed a Christmas store. Seekatz reopened in 2002.
Around 2002, Snider also bought Krause's Cafe. He and Frank Hampel, his partner for Krause's Cafe and the Farmers Market, worked to revitalize the space. He reopened the iconic restaurant and Biergarten in 2016. He and Hampel started the Saturday Farmers Market in 2010.
Michael Meek, interim CEO of the Greater New Braunfels Chamber of Commerce, described Snider as a "renaissance man."
"I had the pleasure of knowing Ron for nearly 33 years," Meek said. "We attended the same church; our children were close in age. He was a renaissance man for sure, creating very successful manufacturing companies in New Braunfels Smoker and Gymini Playgrounds. He pivoted to loving and investing and really transforming our historic downtown with many successful businesses. The economic impact he had on our city was immense, but he will be remembered by me more for always willing to be charitable to so many."
With his partners and by himself, Snider bought and revitalized other buildings downtown, all with the intention of returning them to their original character.
Those structures included the 1938 Palace Theater, which is now Myron's Steakhouse; the former Herald-Zeitung-KGNB Building on South Castell Avenue that now houses 188 South; and the 1910 Richter Building, the 1920 Richter Building and the 1910 Hinman Café, all located on West San Antonio Street.
Mayor Rusty Brockman remembered Snider as one of those community leaders who silently accomplished things behind the scenes and didn't necessarily want a lot of accolades for anything he undertook.
"He does it from the goodness of his heart, and he always has," Brockman said. "I got to know Ron when he was still doing the smoker business. His goals were to make something good out of whatever he touched. He always worked hard to do it the right way.
"His sense of commitment to this community is a shining star about what's happened in our downtown in the last 10 to 15 years. He believed in New Braunfels, and I know he still does. We're all going to miss him. He believed that New Braunfels was the kind of place that he wanted to bring his family to and raise his kids. He can be extremely proud of the fact his grandkids are being raised here, and he was able to do some things that have made a significant impact on people in our community."
Former Mayor Barron Casteel said he remembers Snider for his insight and energy.
"I got to know him over the years just by admiring his insight into his investments in this community. He had this insight into making investments and wanting to make downtown better," Casteel said. "When you spoke to him, he had this energy. There's a saying that a rising tide raises all ships, and that was Ron. He didn't only look at the impacts that benefited him. He looked at impacts that benefited everyone. That's the way he approached things. He wasn't just looking at what was best for Ron Snider and his family; he was looking at ways to improve everything."
Casteel said Snider was 100% loyal to his friends and his business investors.
"He was as loyal to them as they were to him," he said. "He was that type of business person. His investors could literally let Ron handle it because it was his energy, his passion and his vision, but he was extremely loyal to those who supported him. He was as good of a friend that you could have. I enjoyed the relationship that I had with him."
Heidi Aleman, president of the New Braunfels Downtown Association, said Snider's wish was to see downtown thrive and was invested in the growth of the community.
"Ron was hugely instrumental in the growth of downtown," Aleman said. "He was always a big supporter of the Downtown Association. We did several events at Krause's that he was always willing to work with us on and help us coordinate to make them a success. He shared his staff to make sure that it was a great event and we were able to raise money for our organizations since they are non-profit. He had grand visions, in talking with him, with some of the things, he always had great ideas. He was dedicated to preserving and maintaining as much of the historical area as he could."
In February, New Braunfels City Council members designated the Producer's Co-Op building on South Castell Avenue, which Snider owned with Fredrick Heimer and Michael Meyer, as a historic landmark.
Architecturally, the building serves as one of the few intact late Art Deco/Moderne style buildings in New Braunfels, whose identifying characteristics include glass-block windows, stucco exterior, flat roof and horizontal grooves or lines on the façade.
In a 2018 H-Z story, Snider said part of the reason he loved preserving downtown New Braunfels is that the area reminded him of his childhood. He said he was raised next to a co-op and spent his childhood going back and forth between a small town and the metro area, where he lived next to a rail yard.
"I ended up with all these elements of my childhood right here in New Braunfels," Snider said.
In 2015, the Comal County Commissioners Court presented Snider with the Frederick Frueholz, Jr. Historic Preservation Award for his work on revitalizing downtown.
"It's what we want, something original," Snider told the H-Z in the 2018 story. "It's getting hard to find things that are original and true and real. I love downtown. I just love it."
Funeral arrangements are pending with Doeppenschmidt Funeral Home.