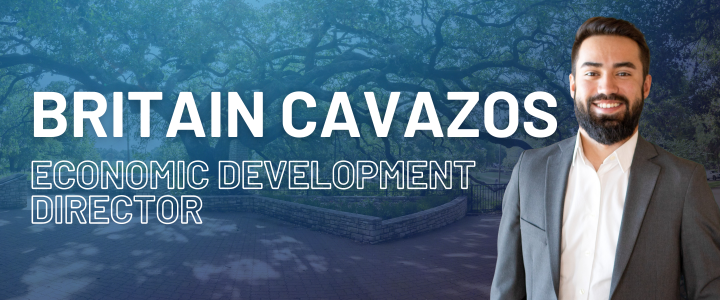 The Greater New Braunfels Chamber of Commerce has expanded its economic development team, hiring Britain Cavazos as Director of Economic Development. Cavazos will work closely with Vice President of Economic Development Michele Boggs on executing the New Braunfels economic development strategy, bringing primary jobs closer to New Braunfels residents and helping existing businesses thrive through a robust business retention and expansion program.
"We are thrilled to welcome Britain to the Chamber's Economic Development team," said Michele Boggs, Vice President of Economic Development. "Britain has great industry experience and will be a key asset to our strategy. I am certain Britain will represent us well in our efforts to bring quality jobs to our community."
Cavazos spent the past six years in Colorado and joins the Chamber after finding his passion in economic development while serving at the Grand Junction Economic Partnership. He has knowledgeable experience in many industries and is no stranger to the nonprofit world, having previously worked for another chamber of commerce, a homebuilders association, and a downtown development authority.
"It's great to return to Texas where there's no better place to do business," said Cavazos. "New Braunfels is such an incredible place and the opportunity to be a part of its story is truly an honor. The work the chamber and EDC executes is extremely vital not only to the local economy but to the quality and standard of life that keeps our residents here as well as the foundation we're building for future generations."