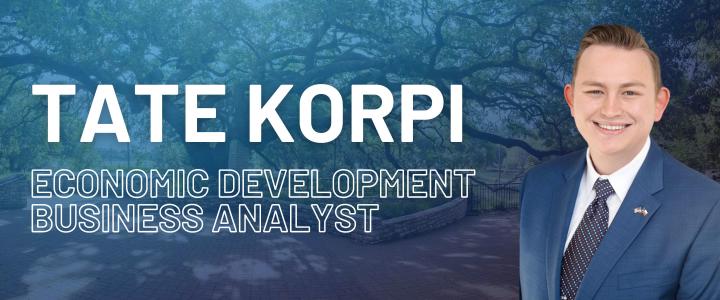 The Greater New Braunfels Chamber of Commerce has again expanded its economic development team, hiring Tate Korpi as a Business Analyst for Economic Development.  Korpi will work closely with Vice President of Economic Development Michele Boggs.  In this role, Korpi will be responsible for analyzing economic data to inform our economic development strategies and initiatives. He will also work closely with our team to identify trends and opportunities for growth in our local economy.
"We are excited to welcome Tate to the Chamber and look forward to the contributions he will make to our economic development efforts," said Michele Boggs, Vice President of Economic Development. "Tate brings a great deal of excitement and energy to our team, and he will be a great asset in telling the story of New Braunfels."
Korpi is a recent graduate of Baylor University with a B.B.A. in Economics and is a fourth-generation native of New Braunfels.
"I am thrilled to be back in my hometown of New Braunfels during this exciting time of growth," Korpi says. "I am optimistic about the future of our community, and I look forward to being part of the Chamber's economic development efforts to invest in the future of this incredible city that I am proud to call home."