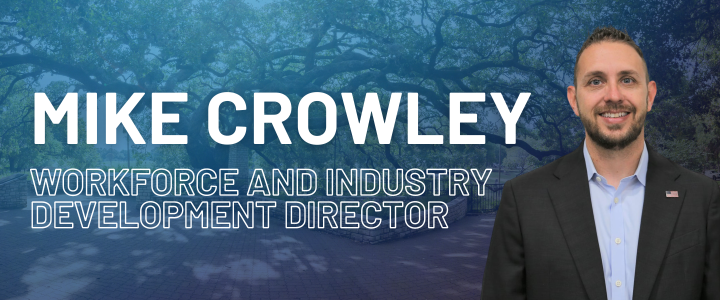 The Greater New Braunfels Chamber of Commerce is proud to announce the appointment of Mike Crowley as our new Workforce and Industry Development Director. With almost two decades of experience in workforce development, economic development, and community engagement, Mike will play a critical role in guiding New Braunfels' workforce training strategy and strengthening our commitment to our community.
"Mike brings a wealth of experience to this new role, having previously held positions in workforce development and economic development at the Alamo College District" said Michele Boggs, Vice President of Economic Development. "We are excited to have him on board."
Growing up and living in San Antonio and the Texas Hill Country, Mike is a third-generation military veteran with a passion for workforce and industry development. He has great experience across several industries, including specialized knowledge in workforce training programs and community engagement.  
"I'm excited to join a team and community with such rich history, tradition, and values," says Crowley. "My family and I are honored, and we look forward to contributing and being part of the wonderful people that call New Braunfels home. The New Braunfels business community is the life blood of this great town. The work that the Chamber and the EDC do with the business community is vital for the economy and investing in the future of its residents. I'm truly honored to serve."