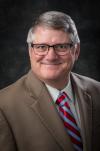 Chester Jenke of the New Braunfels Economic Development Corporation, graduated from the University of Oklahoma Economic Development Institute (OU EDI) on April 29, 2021 at the OU EDI Spring session.
OU EDI is an intensive 117-hour certificate program which provides a broad spectrum of advanced education for the economic development professional. Mark James, Dean, said, "OU EDI is the premier organization dedicated to training economic development professionals. These graduates represent some of the finest economic development practitioners in the U.S. working to support their local communities. My congratulations to them."
OU EDI classes focus on three major core areas including: Business Retention and Expansion, Real Estate, and Credit Analysis, as well as areas of concentration in Workforce Development, Marketing, Strategic Planning, Entrepreneurship, Community & Neighborhood Development, and Managing Economic Development Organizations. Students typically take 1-2 years to complete the program through a series of intensive in- person or online courses.
OU EDI began in 1962 and is celebrating its 59th year of service to the economic development community. Fully accredited by the International Economic Development Council (IEDC), the program has certified nearly 6,000 professionals and remains the world's leading economic development teacher.
For more information about the OU Economic Development Institute, its courses and internationally recognized certificate program, please contact 405-325-3136 or edi@ou.edu.