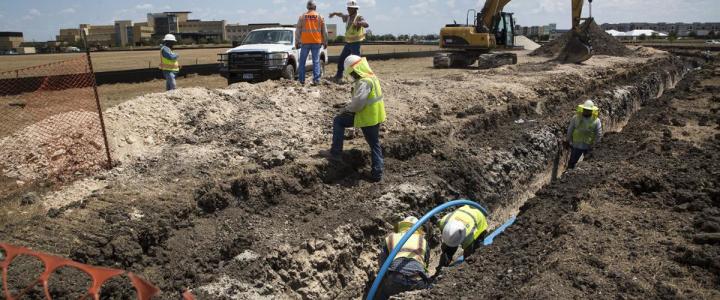 By Steve Knight | The Herald-Zeitung
Despite setbacks caused by the COVID-19 pandemic, New Braunfels is still popular with business site selectors across the country, a local economic development official said.
Chester Jenke, vice president of economic development with the Greater New Braunfels Chamber of Commerce and the New Braunfels Economic Development Corporation, said there's not a week that goes by that he doesn't get at least two or three inquires on both the manufacturing side as well as the retail side of business. 
"I think it's important that it's a mix between the two of those — that your manufacturing folks are looking at it because of the quality of the workforce," Jenke said. "Your retail side is looking at it because of the quality of visitors that we would typically have. The COVID year has made it negative for the tourism side but we've had some very good successes for a long period of time that have highlighted how attractive New Braunfels is to the visitors on the outside."
Jenke said there were no imminent announcements from new large retailers and manufacturing firms, but several projects are on the burners.
"A couple of the retail locations are relocating from one place to the other side of New Braunfels on a higher business traffic route," he said. "But we're also getting some first-timers that are coming to New Braunfels or are looking at New Braunfels to start business."
Jenke said Sprouts Farmer's Market, which offers natural foods, is looking at New Braunfels, but no final decision has been made. He said other large retail outlets have 
also made inquires.
"We know that we have a conversation with Trader Joe's every January (at a conference) in Fort Worth," he said. "I think that when we reach a population of 100,000 we'll be entertained by that. We have a conversation with Academy every year. We'd love to have an Academy close."
KFC and Sherwin-Williams on Farm-to-Market Road 306 are two examples of national retailers that have opened new locations recently.
United Career Training, which operates information technology training centers across the country, recently inked a economic development package with the city that will bring 40 jobs and a corporate headquarters to New Braunfels. As part of the deal, the company also commits to investing $2.4 million to rehabilitate a New Braunfels facility on Landa Street, which will serve as the company's corporate headquarters.
On the manufacturing side, Continental earlier this year announced plans to develop a new 215,000-square-foot facility to manufacture and produce products for advanced driver assistance systems. The investment totals about $110 million.
The retail industry in New Braunfels employs more than 11,000 people, about 29% of the overall labor force market share, according to the NBEDC.
The growth of retail can be attributed to new developments in Downtown New Braunfels, Westpointe Village, Town Center at Creekside and Village at Creekside.
Together these developments alone will have over 3.5 million square feet of retail space at full build-out. 
A 2015 retail gap study conducted by the NBEDC indicated New Braunfels and Comal County were experiencing over $1 billion dollars in retail leakage, mostly in the motor vehicle and parts stores, electronics and appliance stores, food and beverage stores and health and personal care stores areas.
Retail leakage occurs when local people spend a larger amount of money on goods than local businesses report in sales, usually because people travel to neighboring towns to buy those goods.
But there's still plenty of money to be made in New Braunfels for potential retail businesses.
Since the study was completed, there are still potential sales of $46 million to be made.
"That conference that we go to in January give us an opportunity to see all of our business owners in large chain retail…and they're all pretty happy with way their stores are performing in New Braunfels," Jenke said. "I still think we're popular throughout the U.S. as a destination for tourists. I think we're very popular throughout the U.S. as a destination for business."
Jenke said a lot of businesses have created new types of ways to conduct business during the pandemic.
"If you look at some of the restaurants, take-out is brand new to them, curbside is brand new to them," he said. "It was a matter of bringing out some sort of new business that really forced them outside of their box, to come up with something new to stay in business. We have to applaud them for that."
And the business may end up more robust in the long run.
"If it opens up a new business line, a virtual marketplace or e-market for them, whatever produces a dollar for them, I think it's something that they will be able to carry forward and sustain them for a longer period of time," he said. "It will make them stronger on the backside of this."
But overall, Jenke said he believes the pandemic, as devastating as it is to business, will end up just "a bump in the road" in the city's long-term economic future.
"I had the same experience during the H1N1 swine flu. It didn't last as long as COVID-19 has, but I do think the other side of this is pretty optimistic," he said.