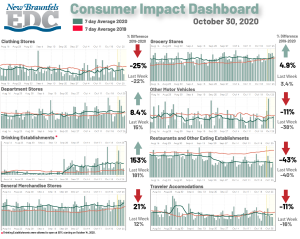 If you have not been following the consumer dashboards – you are missing out. These dashboards are an indicator (using cell phone data) of consumers that are visiting various businesses throughout New Braunfels. While we understand that cell phone location services does not mean that the consumer is spending money at these locations, it does provide us an indicator that businesses are being visited – and why else would you go to a business if the intent is not to purchase something?
The onset of COVID-19 left many businesses scrambling for different ways to continue to produce an income stream while they were either closed, partially open (or partially closed for the pessimist), or open but the number of retail consumers had dwindled substantially. The positive aspect of this is that there are many businesses that have created new income streams. While these conditions were not optimal for refining a new way of accomplishing business - survival mode kicked in. Many businesses created new e-commerce streams, some creative thinkers brought a new definition to take-out, some created take-out—for the whole family, curbside, parking lot pick-up, and the list goes on. The bottom line is that businesses did what they needed to do to be creative and keep a positive cash flow (or at least a break-even cash flow). If you ask most of those that have created new business models, they will tell you that they are here to stay – even after the pandemic.
These consumer dashboards provide us a snapshot in time of the positive improvement of the economy – and we are proud, in fact New Braunfels PROUD that the city as a whole fared much better than other cities in the state, and even better than the U.S. As stated in the beginning, just because the location services on the cell phone indicated that a person visited a business did not mean that they were spending money. However, the state sales tax report did indicate that the consumer was spending money. These sales tax reports at the onset of COVID-19 were pretty bleak to say the least!! But, in perfect New Braunfels form the general population figured out a way to shop safely.
Fast forward, the sales tax reports exceeded the initial estimates and in fact, ended the fiscal year on a positive note. The lessons learned in this pandemic are many – but the one thing learned is that when we needed to come together as a city – we did it. We are not saying we are out of the woods yet, but keeping up the cautiously optimistic attitude will get us there.
These consumer dashboards can be found at https://www.businessinnewbraunfels.com/new-braunfels-ready/consumer-impact-dashboard/