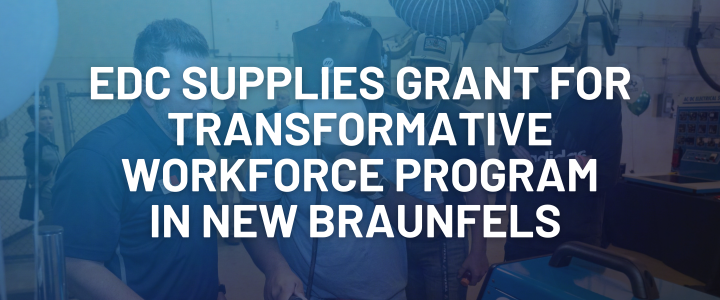 The New Braunfels Economic Development Corporation (NBEDC) recently approved a $1,000,000 grant to create a transformative workforce development program based at the Central Texas Technology Center (CTTC) in New Braunfels. The investment will help launch the new Lone Star chapter of the Texas Federation for Advanced Manufacturing Education, or Texas FAME. The grant, which was approved by the New Braunfels City Council on February 13th, is part of a $2,000,000 funding partnership with the Seguin Economic Development Corporation (Seguin EDC) and area employers to purchase and install the equipment necessary to launch an apprenticeship program in advanced manufacturing.
Students in the program will receive both classroom education and company-based training at their sponsoring employer. The program takes two years to complete, and students leave the program with an associate degree. The training will be provided by Texas State Technical College (TSTC).
This investment is a continuation of a long history of NBEDC investments in strengthening the local workforce. The CTTC facility was originally developed in part through a $1,650,000 grant from the EDC. In 2013, New Braunfels voters approved $4,000,000 to expand the center, which was completed with additional capital contributions from the EDC. Both rounds of investment leveraged national grant funds and were made in partnership with the Seguin EDC. Through regional partnerships with surrounding communities, school districts, and professional organizations, the New Braunfels EDC is committed to investing in programs that advance careers and support business growth across the New Braunfels area.
"Investing in our regional workforce is a focus of New Braunfels' economic development strategy," says Greater New Braunfels Chamber of Commerce President & CEO Jonathan Packer. "Doing so will require innovation, regionalism, and collaboration. This new investment hits each of those marks. Issues like housing and workforce participation rate are deepening nationally and significantly impacting companies' ability to hire and grow. Creating best-in-class strategies to address this challenge will be critical."
The Texas FAME Lone Star chapter is now accepting applications for its first class of students. Technical training and coursework is expected to begin in August 2023.