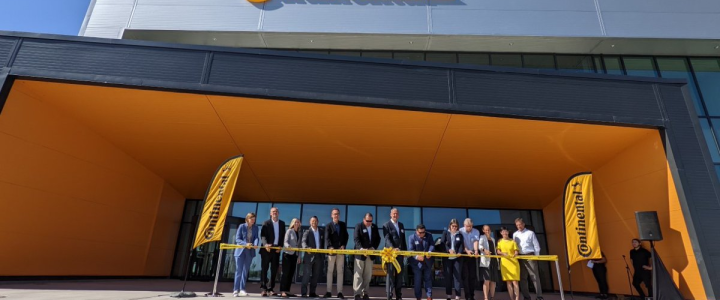 Economic growth and quality of life go hand-in-hand, and New Braunfels, TX, is a perfect example. Business and community development is thriving in New Braunfels, with ample opportunity for continued growth for individuals and families, small businesses and large corporations.
"As a community developer that has played an active role in the area's growth for over a decade, it is a great feeling to see the momentum continue to build around this very special city and the community," said Chip Mills, Senior Vice President with SouthStar Communities.
Numerous factors quantify New Braunfels' flourishing state, beginning with a significant population increase. For 2022, Smart Asset ranked New Braunfels as the #4 Boomtown in the country, higher than any other city in Texas. It had the second-highest population (36.1%) and housing growth (40.86%) increases in the report between 2016 and 2021. It is an appealing draw for residents looking to move out of Austin and San Antonio, two of the eleven largest cities in the U.S. 
Industry growth in New Braunfels is facing a similar incline. The total Gross Regional Product of New Braunfels in 2021 was $2.8 billion, approximately double that of a decade earlier. Recent corporation investments underline New Braunfels' economic growth. A new $110 million Continental automotive manufacturing plant opened in 2022, while TaskUs expanded its footprint in 2022, requiring about 750 new positions for a total of 1,500 jobs at full employment. Detex Corporation made a $16 million investment in 2022, adding 60,000 square feet and employing 150 people. 
As expected, employment growth has followed industrial development. Over the past decade, New Braunfels has gained more jobs in key sectors at rates that have outpaced the Austin-San Antonio megaregion. Information Services are up 57%, Financial Services by 67% and Professional Services nearly doubled, at 99%. 
Supporting continued growth
Numerous factors will drive exciting New Braunfels' future growth.
Ideal location
New Braunfels is an excellent strategic location for many industrial sectors along a growing corridor between San Antonio and Austin. The area's infrastructure makes access to international markets and suppliers simple and reliable. Interstate 35 and Interstate 10 connect to the national transportation network. Port San Antonio is one of two intermodal logistics facilities in Texas. The San Antonio International Airport and Austin-Bergstrom International Airport deliver domestic and international air travel. And proximity to Austin, the state capital, offers governance inroads, including legislators, lobbying interests and more. 
Quality of life
With its location in the coveted Texas Hill Country, New Braunfels is a community of choice. Add the quality of life delivered by excellent schools, plenty of green space and vibrant downtown and the possibilities are endless for businesses to find success, said Max Harford, Vice President of Finance with ASA Properties.
"New Braunfels is appealing to developers, starting with a large, highly educated and skilled talent pool within the San Antonio and Austin area," he said. "Even more importantly, businesses want to be here, recognizing the genuine identity of the community as an asset."
Growing talent pipeline 
Another advantageous factor supporting New Braunfels is its growing population. It has increased more than 66% since 2012, reaching about 100,000 in 2023. Comal County's population base will approach 400,000 by 2050, much of which will be in New Braunfels.
The fastest-growing population segment is college-educated individuals. Residents with a Bachelor's degree have increased 41% since 2017 and those with a graduate degree or higher experienced a similar trend. As a result, approximately 85,000 residents had a Bachelor's degree or higher in 2022 in Comal County and its neighbor, Guadalupe County.
A highly effective network of educational institutions exists to support that talent pipeline. More than ten universities lie within an hour's drive from New Braunfels. The University of Texas at Austin is one of the top universities in the world. It features the McCombs School of Business, with the #1 accounting program in the U.S. and a top ten undergrad business program overall. Within New Braunfels itself, Howard Payne University New Braunfels offers bachelor's and master's degrees and the Central Texas Technology Center provides higher education and technical training to meet the needs of high-demand occupations.
Thriving region
Regional development promises continued potential for New Braunfels. Semiconductor chip production could surge as the CHIPS Act funnels billions of dollars to Texas for R&D. Samsung is considering a reported $200 billion investment for 11 new chipmaking facilities in the Austin area that could create more than 10,000 jobs. Tesla opened a new Gigafactory Texas manufacturing hub in 2022.  
Investing in real estate
Recognizing a flourishing business district with vast economic potential in New Braunfels, two unique developments illustrate the area's commitment to supporting that growth.
ASA Properties is the developer of Veramendi, a premier master-planned community near the Hwy 46 commercial corridor with 1.5 miles of Texas State Highway 337 loop frontage. Groundbreaking occurred in 2018 on the 2,400-acre site, including more than 4,000 homes and 380 acres of commercial property at full build-out, equal to about 10% of New Braunfels' current landmass. The master plan includes educational campuses, a medical district, arts and entertainment space, 480 acres of vibrant parks, 35 miles of rolling trails and 1.5 miles of Guadalupe River frontage.
"Homebuyers are clamoring for these amenities," said Harford. "The development represents the healthy future opportunities in New Braunfels, which means delivering long-term employment here."
Mayfair is a 2,000+ acre master-planned community located along the I-35 corridor designed with the community in mind. Priorities of increased employment, diversified retail/office opportunities, dynamic housing options, enhanced community amenities and a business-friendly environment work synergistically to benefit the community. Forecasts indicate the Mayfair economic impact to generate annual total economic activity of $320.2 million and almost 2,000 permanent jobs over the next 15 years.
"Ongoing collaboration and communication with City officials, education leaders and project stakeholders have played a crucial role in the success of project planning for Mayfair," said Mills. "The smart, planned growth happening in this community will enhance the quality of life for everyone and support the region's economic expansion."
Get in on the boom
While New Braunfels has thrived recently, it could just be the beginning. Companies seeking to relocate their headquarters or establish operations like a cybersecurity data center, Life Sciences R&D startup, or EV battery manufacturing facility can flourish with the available talent. Join the momentum to deliver the results your company needs. The New Braunfels EDC is eager to help your company find that success. Contact us today to become part of the exciting development happening in New Braunfels!