By Steve Knight The Herald-Zeitung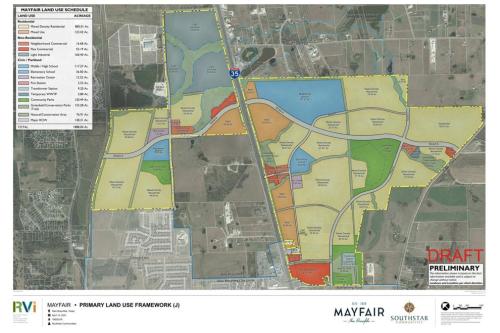 An almost 1,900-acre project proposed along I-35 just outside of the New Braunfels city limits could bring up to 6,000 new residential units to the area, commercial and light industrial development as well as parks and spaces for additional schools.
The tentatively named Mayfair development is drawing comparisons to Veramendi, a similar 2,400-acre project that had its official opening in 2019 and continues to build.
Like Veramendi, the Mayfair development requires an approved development agreement before establishing a water improvement district, according to David Ferguson, the city's media and communications coordinator. 
"The proposed WID is intended to have a mixture of residential, commercial and public uses," Ferguson said. "The property is located outside the city limits, but the legislation authorizing the WID provides the city with the ability to enter the agreement in order to outline the city's requirements for permitting and planning-level reviews, as well as the developer's commitments to deliver project amenities and benefits that will serve the water improvement district and New Braunfels residents alike."
Officials said negotiations with New Braunfels-based developer SouthStar Communities are nearing completion, and the city is seeking feedback from residents about the proposed development on property owned by the Texas General Land Office.
A public meeting is set for May 13 from 6:30 p.m. to 8 p.m. at Oak Creek Elementary School, located at 3060 Goodwin Lane, so residents can learn more about the proposed project and development agreement. 
Following a presentation about the development, city staff members and representatives from SouthStar Development Partners will be on hand to answer questions. 
Additionally, a virtual informational meeting will take place on May 17 from 6 p.m. to 7:30 p.m. Details on that can be found online at www.nbtexas.org/mayfair.
In 2019, the Land Office solicited proposals for the sale and development of what is tentatively called the Mayfair development, an 1,880-acre tract of land in the area that is roughly located north of Kohlenberg Road and Conrads Lane and bisected by the interstate. 
In early 2020, New Braunfels officials began discussions with SouthStar Communities. In Comal County, SouthStar has previously developed and operated Vintage Oaks, Havenwood at Hunters Crossing and The Crossings. 
Chester Jenke, vice president of economic development with the New Braunfels Chamber of Commerce and the New Braunfels Economic Development Corporation, said the area is prime for mixed-use, commercial and industrial development.
"If you look at what we have inside of the city limits of New Braunfels for industrial type development, we're running out of land fairly quickly," Jenke said. "This adds to that for industrial type use. The developer has also included some flex spaces as well as community parks inside of it and some hiking and biking trails, very similar to the Veramendi project. The Veramendi project has been very successful, so I think this will follow suit."
According to a preliminary draft map of the project on the city's website, possible land uses could include mixed density residential, educational, recreational center, mixed-use, neighborhood commercial, flex commercial, light industrial, a temporary wastewater plant, parks and open space.