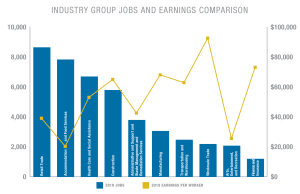 In local communities such as New Braunfels, industries are divided into primary, secondary and tertiary groups. The industries that contribute the most financially to the economy are primary employers, with jobs that produce a goods/services for customers outside the community. Local employers help to redistribute the wealth through wages paid, thereby infusing new dollars into the community via sales tax dollars that are further used to fund infrastructure, police/fire services/waste services and quality of life amenities such as parks.
Comparing industry jobs and earnings in Comal County, primary job industries such as manufacturing, transportation, oil & gas, warehouse and wholesale trade statistically have higher salaries due to the level of skill required to perform work tasks. Tertiary industries such as retail, accommodation and arts industries typically have the highest number of jobs with lower wages and typically can be identified by part-time or flexible schedule jobs.
According the to the industry group and earning comparison chart, primary jobs earn nearly twice as much as tertiary jobs and most often include healthcare benefit packages – sometimes benefits are the key to employment satisfaction and longevity. Other benefit packages can offer advanced-skill training in return for additional years at the company and wellness programs can help improve employee performance. Additionally, benefits can relieve outside life pressure to help employees focus on work thus improving company culture.