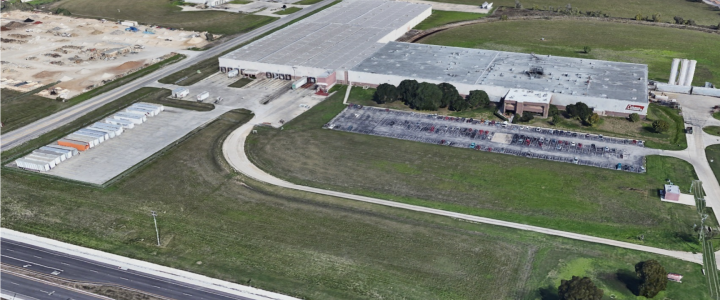 Despite many challenges in the U.S. economy, industrial project activity continues at an unprecedented rate. The speed at which companies want to get to market has only accelerated. Texas has long been known as the nation's manufacturing capital, and the I-35 corridor between Austin and San Antonio is booming. 

Strategically located between both major MSAs, New Braunfels is exceptionally positioned to absorb both new-to-market companies and the expansion of existing companies. Advantages include supportive policies, progressive business incentives, reliable infrastructure, an established supply chain, competitive operating costs, a diverse talent pipeline, and unmatched quality of life.

With several new and existing major industrial developments set to bring almost 1.5 million square footage of industrial space along I-35 in 2023, New Braunfels is ready for expansion. 

"For manufacturers concerned with cost and speed-to-market, New Braunfels is a great choice," said Michele Boggs, Vice President of Economic Development at the New Braunfels Chamber. "We have an aggressive EDC and are ready to make a deal." 

Industrial Vacancies Bring Job Opportunities to New Braunfels

Five industrial developments along the I-35 corridor offer the potential for major companies to grow their operations and employment base in New Braunfels. The facilities, offering nearly 1.5 million square footage between them, offer various fits, including manufacturing, office, logistics and distribution.

Former Coleman manufacturing facility

Legacy Commercial represents the former Coleman manufacturing facility, a unicorn in today's market. The existing building is 346,000 square feet and is split between manufacturing, warehouse and office space. The property is 42 acres with plenty of power infrastructure and an active rail spur that offers room to expand the main facility into similar use or potential retail development with a lighted hard corner intersection.

Rueckle Crossing Logistics Center 

Another Legacy Commercial offering is the Rueckle Crossing Logistics Center, a new 413,000-square-foot logistics distribution facility on 26 acres with excellent I-35 visibility. The project will be delivered in the second quarter of 2023 and, once complete, will be the only one of its kind in the New Braunfels market. 

"This is your class-A logistics distribution facility with 36-foot clear height and large depth to accommodate storage needs for very large users," said Mike Ybarra, Principal of Legacy Commercial Real Estate in New Braunfels. "We also accommodate a large parking area for trailers."

Ybarra indicated the facility would also be an ideal space for manufacturing companies, creating increased flexibility to deliver what the market needs. As a result, there is incredible potential to bring more higher-paying salaried jobs in New Braunfels. 

"That ability to serve different uses will help solidify us as a location suitable for companies seeking distribution or manufacturing operations," Ybarra said. "That increased diversified growth can lead to new job opportunities and a thriving community."
Goodwin Lane

A new property along the I-35 corridor is 2435 Goodwin Lane, an office and corporate industrial facility available to tenants. The approximately 102,000-square-foot property offers a mix of warehouse and office space, well-equipped with heating, cooling, ventilation, elevators and more.

"The property has considerable potential as a high-end, high-tech manufacturing facility," said Ryan Wilson of ECR Beyond Real Estate. "This quality asset will be desirable to companies that can provide numerous high-paying jobs."
Holcan Industrial Park

The Holcan Industrial Park is growing by adding a third building to its flourishing site. The new addition will be similar to the existing buildings used for industrial, warehouse or distribution. The 262,343 square feet building will be delivered in late 2023. 

Former Owens-Corning facility

Cavender & Hill Properties represents the 218,000 square-foot former Owens-Corning facility, suitable for manufacturing or distribution space. The facility includes six dock doors, seven building cranes, more than 200 parking spaces and office space finished to suit. Significant renovations are complete and the building will be available in early 2023. 

New Braunfels is thriving

New Braunfels has much more to offer new or expanding companies beyond advantageous sites and facilities. Its population and economy have flourished with expanded development along I-35. An impeccable education system and a unique sense of community have led New Braunfels to become one of the most thriving and beautiful communities along the I-35 corridor, according to Vice President of Land Acquisitions for Endura Advisory Group Wayne Ashabraner.

"We have a well-motivated and well-educated workforce, well-planned-out and friendly hometown communities to live in and raise your children and excellent school systems along the I-35 corridor," Ashabraner said. "All those are extremely attractive to potential employers."

New Braunfels has successfully attracted and retained talent as it is one of the nation's most desirable places to live. The dynamic population growth is reflected in the United States Census Bureau ranking New Braunfels as the 5th-fastest growing large city at an 8.3% increase from July 1, 2020, to July 1, 2021. Adults in the area with a Bachelor's degree or higher have increased by 11% over the past five years.

New Braunfels' economic growth is illustrated by the City's general fund budget revenue essentially doubling over the past ten years. Small businesses and large companies have been moving and expanding to the area, producing plenty of job openings for the multitude of New Braunfels' skilled workers.

Be part of New Braunfels' success

The new development along I-35 in New Braunfels bodes well for New Braunfels' continued long-term economic growth for companies and the community. As new companies add to New Braunfels' existing strengths in the microchip and automotive industries, data centers and more, increased job growth should follow over the next several years. More development along Interstate 35 will undoubtedly follow, helping New Braunfels to continue its success pedigree.

"New Braunfels is the perfect hometown to me and the community is forward-thinking, as well," Ashabraner said. "I'm fortunate to be able to participate in what's going on here."

The New Braunfels EDC is eager to help your company find success in New Braunfels. Contact us today to learn more about the advantages awaiting you!