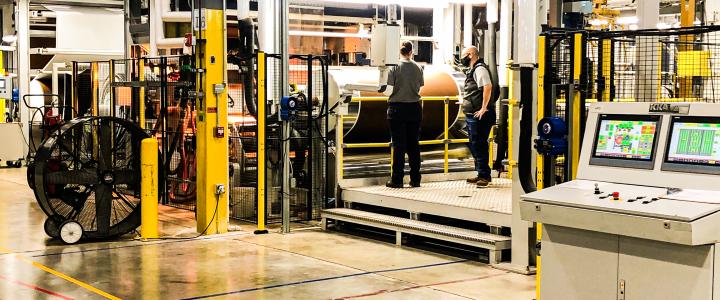 Texas is a manufacturing hub for the U.S., with over 20,000 companies and nearly 1,300,000 employees involved in operations spanning all industrial sectors. Austin and San Antonio have become major draws for advanced technology, complementing historical manufacturing hubs in Houston and Dallas-Fort Worth. But one growing city in the Texas Hill Country, New Braunfels, is quickly becoming a manufacturing center for small businesses and large corporations alike.
Between San Antonio and Austin, New Braunfels offers manufacturing companies the opportunities to expand or build their operations at customizable properties with access to world-class infrastructure, a talented workforce and industry momentum.
Manufacturing Community
Numerous corporations thrive in New Braunfels in various industrial manufacturing segments. Advanced manufacturing operations are realizing the potential of the benefits of the surrounding region. Continental, a key driver in assisted and automated driving technology, opened a new state-of-the-art automotive manufacturing facility in New Braunfels in 2022, investing more than $110 million to manufacture Advanced Driver Assistance Systems products, like radars and sensors. The project, along with Tesla's new Gigafactory Texas manufacturing hub, highlights the region's propensity for being at the forefront of the future of the automotive industry.  
The semiconductor industry is poised to surge in Texas with anticipated CHIPS Act funding billions of dollars for R&D and chip manufacturing. Samsung is considering a reported $200 billion investment for eleven new chipmaking facilities in the Austin area that could create more than 10,000 jobs. Substantial regional momentum for support industries is apparent in other projects. One example is Applied Materials' consideration of a $2 billion expansion in Hutto to expand its operations manufacturing tools for semiconductor companies like Samsung.
Manufacturing potential is not limited to major national corporations. For instance, Detex Corporation, which engineers and manufactures access control alarms, annunciator panels and optically controlled turnstiles, made a $16 million investment in 2022, employing 150 people and adding 60,000 square feet to its New Braunfels location.  
New Braunfels potential
Many inherent advantages make New Braunfels an attractive draw for manufacturing companies, beginning with prime real estate for production facilities. The Holcan Industrial Park is a perfect example. Located in New Braunfels, just two miles from I-35, the 96-acre site offers manufacturers seeking 50,000 square feet and larger buildings with available utilities and flexible site options. Canadian General Tower has a manufacturing facility on a 28-acre site in the park to manufacture premium vinyl cover stock for automotive and industrial customers. A newly built 154,000+ square foot industrial warehouse is ready for a new user.  With proximity to the adjacent Walmart distribution center, manufacturers in the Holcan Industrial Park will be in prime territory for rapid growth. 
Incredible workforce
Perhaps the most significant draw for companies may be the booming local population. U.S. Census data indicated New Braunfels had the third-largest population increase in the country at 56.4% in the decade from 2010 to 2019. That growth has continued, with the city exhibiting a top-five population increase in 2021 at 8.3%. 
That population growth has led to one of the most significant labor pools in the country. Comal County, of which New Braunfels is the largest city, is anticipated to approach a population of 400,000 by 2050. Additionally, its value exceeds the size, as manufacturers can depend on a highly qualified workforce. The fastest-growing segment of the potential workforce is college-educated individuals. Residents with a Bachelor's degree or higher have increased by 41% since 2017, totaling more than 85,000 highly-qualified individuals in the area.
Many of these well-educated high-potential residents would likely welcome new companies in New Braunfels. The city's recent Economic Benchmark Study highlighted that many individuals leave greater New Braunfels for work, with a net outflow of 4,576 residents daily in 2021. Production occupations represent the third largest outbound rate, with a net out-commuting of roughly 600 residents daily.
Education and training    
Technology is changing the typical workplace at an exponential rate. Another significant advantage to locating in New Braunfels is the potential for continued education and training. Numerous quality educational institutions are part of the community, allowing companies to keep their employees abreast of the latest requirements. Locally, the Central Texas Technology Center provides higher education and technical training to meet the needs of high-demand manufacturing occupations. Howard Payne University New Braunfels offers bachelor's and master's degrees. With a slight radius expansion, more than ten universities lie within an hour's drive from New Braunfels. Highlighting that list is the University of Texas at Austin, one of the top universities in the world. Several of its programs rank in the country's top ten in their field, including the top accounting, advertising, finance, MIS, marketing and petroleum engineering programs.
Strategic location
Manufacturing companies will thrive with a New Braunfels location. Positioned between Austin and San Antonio, two of the eleven largest cities in the U.S., New Braunfels offers strategic industrial sector advantages. The area's infrastructure makes access to international markets and suppliers simple and reliable. Interstate 35 and Interstate 10 connect to the national transportation network. Port San Antonio is one of two intermodal logistics facilities in Texas. The San Antonio International Airport and Austin-Bergstrom International Airport deliver domestic and international air travel. And proximity to the state government in Austin offers governance inroads, including legislators, lobbying interests and more. 
Pro-business
Looking beyond the strategic physical location, New Braunfels is a community with a plan for success in a pro-business environment. When TaskUS expanded its operations in 2022, the New Braunfels Economic Development Corporation offered a $300,000 grant to finish the project. Additionally, New Braunfels secured Continental with a $5.5 million EDC incentive package that included a land-acquisition grant of up to $3.3 million.
Manufacturing leads the historical experience in New Braunfels and Comal County, with approximately 100 unique employers and over 3,300 manufacturing jobs. Strengthened by notable area manufacturers like BAE Systems, Caterpillar and Toyota, the historical manufacturing experience in the region is unmatched.
Manufacture more in New Braunfels
There is room for more manufacturing companies in New Braunfels, with ample opportunity for small businesses and large corporations. The city's 2021 Gross Regional Product of $2.8 billion has doubled in the past decade and is poised to continue that growth. Join the momentum to deliver the results your company needs from manufacturers currently located in New Braunfels.  Contact the New Braunfels EDC today to become part of the exciting development in New Braunfels!