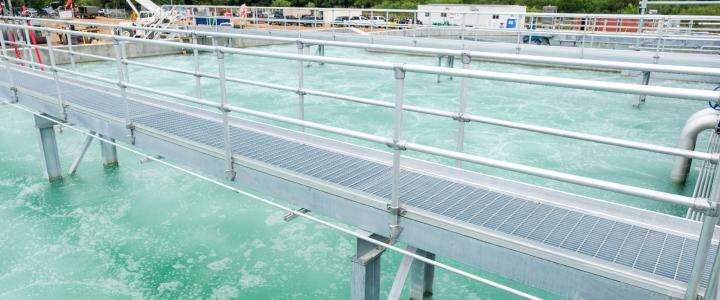 By Jessica Corso  – Reporter, San Antonio Business Journal
 Updated 
New Braunfels Utilities flipped the switch Tuesday on a plant that will more than double the volume of wastewater the growing community can treat.
The Gruene Wastewater Treatment Plant is operational after two and a half years of construction. The plant, which cost the city-owned utility $58 million to build, will replace the old Gruene facility just down the road. The new facility at 1835 Gruene Rd. does not sit in a flood plain, unlike the old plant at 1493 Gruene Rd., the utility company said. As part of the move, the old plant will be shut down and waste water pipes that once flowed into that facility were redirected to the new Gruene plant.
The old facility could treat 1.1 million gallons of wastewater and was set to reach capacity by the end of this year. The new facility can treat up to 2.5 million gallons per day, though it's unlikely to reach that capacity until beyond 2028, according to a 2019 presentation to the New Braunfels City Council. The treated water is deposited into the Guadalupe River, a source of drinking water for the New Braunfels community.
The new plant also includes upgrades like odor control, phosphorous removal and ultraviolet light purification instead of treatment by chlorine or sulfur dioxide.
"We think it's a lot safer for our workers and the community," Brent Lundmark, NBU's water treatment and compliance manager, said during a tour of the new facility on Friday. "There's just a lot of improvements we've made here that we're really proud of, and we're excited to have it up and running."
The new Gruene plant is one piece of a 2018 water resources plan meant to ensure that NBU can meet the demands of one of the nation's fastest-growing cities. Another piece of that plan, the storage of water in the Edwards Aquifer in case of drought, was given the green light by Gov. Greg Abbott in June 2019.