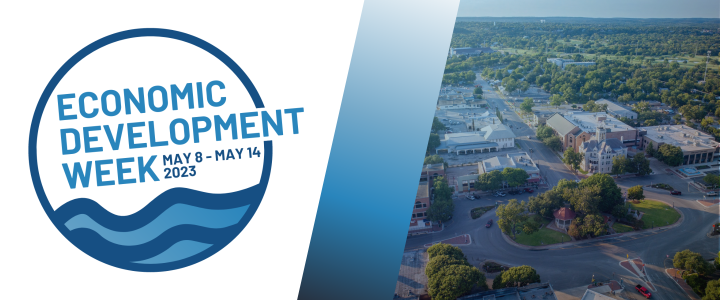 The international event will highlight local efforts to increase the quality of life in every community over the course of May 8th to May 12th, 2023
New Braunfels, Texas – The Greater New Braunfels Chamber of Commerce marks the week of May 8 to May 12, 2023, as the next Economic Development Week. During this week, communities across North America will celebrate and recognize the contributions made by professional economic developers to create more economically vibrant and livable communities.
Created in 2016 by International Economic Development Council (IEDC), the largest international professional trade association for economic developers, Economic Development Week aims to increase awareness for local programs that create jobs, advance career development opportunities, and improve the quality of life in communities everywhere.
"As local and regional economies evolve, the role of economic developers and development organizations are crucial in energizing, preparing, and promoting local economic growth," says IEDC President & CEO Nathan Ohle. "The 2023 Economic Development Week will recognize, distinguish, and show appreciation for the innovation and leadership of our community leaders building an equitable, sustainable, resilient, and inclusive future. I hope communities everywhere will join us in celebrating the accomplishments and important work economic developers perform in their communities year-round."  
With the population growth in communities across South-Central Texas, economic development is a critical need for communities to expand existing businesses while also attracting new quality jobs. With a 66% population growth and 41% increase of college-educated residents since 2017, New Braunfels is quickly becoming a regional hotspot for skilled labor. New educational opportunities like the Texas FAME Lone Star chapter and the upcoming expansion of Howard Payne University New Braunfels are providing area employers and employees with the tools to succeed. Recent and upcoming expansions like Continental Automotive, Canadian General Tower, and Detex Corporation are bringing highly skilled advanced manufacturing jobs to our community, and New Braunfels continues to average over 1,000 new primary jobs created each year since 2012.
"As we celebrate Economic Development Week in our community, we are reminded of the vital role that economic development plays in creating a strong, vibrant, and prosperous local economy. This week, we recognize the hard work and dedication of our local businesses, entrepreneurs, and community leaders who are committed to creating jobs, driving innovation, and fueling economic growth," says Vice President of Economic Development Michele Boggs. "Together we work to build a thriving economy that benefits all members of our community."
About the Greater New Braunfels Chamber of Commerce
The New Braunfels Chamber is a membership organization that represents more than 1,600 local businesses. We partner with the public sector to administer tourism marketing and job growth for the community. We work to strengthen the local economy, advocate for our members and the community, advance community excellence, and deliver value to our members.
The Chamber's Economic Development department provides a confidential, single point of contact to businesses looking to create new jobs in New Braunfels. We manage partnerships with businesses, educational institutions, and local government and operate from a shared strategic plan. Our partners include the City of New Braunfels and its EDC, Comal County, NBU, local school districts, and the Economic Development Foundation.
About the International Economic Development Council
The International Economic Development Council (IEDC) is a non-profit membership organization serving economic developers. With more than 4,300 members, IEDC is the largest organization of its kind. Economic developers promote economic well-being and quality of life for their communities, by creating, retaining and expanding jobs that facilitate growth, enhance wealth and provide a stable tax base. From public to private, rural to urban, and local to international, IDCs members are engaged in the full range of economic development experience. Given the breadth of economic development work, our members are employed in a wide variety of settings including local, state, provincial and federal governments, public-private partnerships, chambers of commerce, universities and a variety of other institutions. IEDC's members create high-quality jobs, develop vibrant communities and improve the quality of life in their regions.