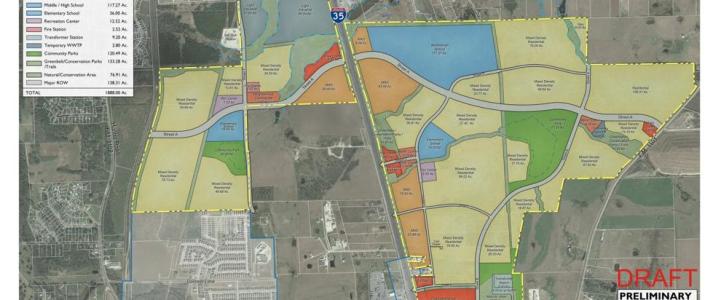 By Steve Knight The Herald-Zeitung |  
New Braunfels City Council members on Monday unanimously approved two items related to the 1,900-acre Mayfair project, a proposed master-planned mixed-use community located north of New Braunfels slated to add thousands of residential housing units as well as commercial and light industrial development, parks and spaces for additional schools.
Council members approved the creation of Comal County Water Improvement District No. 3, which would maintain the authority to impose an assessment on paying for drainage, roads, water and sewer utilities, parks and other items appropriate by law within the development property.
The assessment's purpose is to provide a reimbursement process to developers to construct a variety of public facilities.
Members also approved a development agreement with New Braunfels-based SouthStar Communities, which will define what regulations will govern the development and provide the city with layers of oversight in the planning, permitting and public park operation since the development is within the city's extraterritorial jurisdiction.
The city's ability to regulate development is limited within the ETJ. Development located within the ETJ would not typically have zoning, landscaping requirements, building permit reviews or building safety inspections. Only development regulations associated with platting property would apply. 
But the approval of an agreement and creation of a special district by the council allows the city to exercise governance and impose regulatory requirements on the project not allowed otherwise.
Current plans submitted to the city call for the development to include nearly 6,000 homes, over 70 acres of commercial property, over 120 acres of mixed-use development, over 300 acres of public parks and a 160-acre employment park, and four new Comal ISD schools. 
"It's not our plan alone," Thad Rutherford, president of SouthStar Communities, told the Herald-Zeitung. "This is a plan for the city and Envision New Braunfels. "All of the things New Braunfels has been land-planning for years — Mayfair is going to deliver — parks, open space, infrastructure. We pay for the infrastructure. That's why there wasn't opposition, in my opinion. We were bringing something to the table rather than asking for something at the end of the day. It's a true mixed-use community, and we're super excited about developing it."
Envision New Braunfels is a city-wide effort to develop a vision and "roadmap" for New Braunfels' future through 2030. City council members adopted it in August 2018.
Mayfair is expected to offer a variety of housing, including single-family homes, apartments, townhomes and duplexes.
SouthStar plans to add an east-west connector under I-35 between Watson Lane and Kohlenberg, connecting both sides of the community and facilitating travel across northern Comal County. 
Rutherford said the developer would update the traffic impact study "every step of the way."
"We will spend at the end of the day — a typical (traffic impact study) will cost about $10,000," he said. "We'll probably spend $800,000 during the course of it because we are going to be doing multiple (studies) as we go. We have offsite items that may come up earlier or may come up later but we track our traffic in this process, similar to Veramendi."
The community will include more than 35 miles of trails, including dedicated bike lanes, mountain bike trails, nature and multi-use trails.
"We have a lot of infrastructure that has to go into the ground," Rutherford said. "But it's more roads, water, wastewater — all items of infrastructure that are needed."
According to SouthStar, construction is expected to begin in 2021, with the first homes anticipated to be completed in 2023. SouthStar anticipates it will take about 15 years for the entire Mayfair community to be completed.
The Texas General Land Office in 2019 solicited proposals for the sale and development of about 2,400 acres owned by the state agency and located in the city's ETJ. 
In 2020, SouthStar began discussions with the city to negotiate an agreement outlining the roles and responsibilities of both the city and the development project. 
"Since the first city council action in 2013 to authorize the creation of the Water Improvement District, the city has been invested in ensuring that the holistic planning efforts for development of the GLO tract would strike a positive outcome for the city and its residents," said Jeff Jewell, the city's director of economic and community development. "The city has been in discussions with SouthStar for two years to identify shared values and areas where we could collaborate to provide benefits for Mayfair and New Braunfels residents. Coordinating with Southstar on the Mayfair project helps ensure that the project aligns with forward-looking city plans and that the project benefits the city and region."  
SouthStar will work closely with the New Braunfels Economic Development Foundation to attract new employers to fill the 160-acre employment center. 
A recent study by TXP, Inc. estimated more than 2,000 permanent jobs would be created by the development and generate a new property tax base of nearly $2 billion for the area.
New Braunfels Utilities is expected to consider a utility agreement for the project in August.
Information on the Mayfair project is available online at www.nbtexas.org/mayfair.