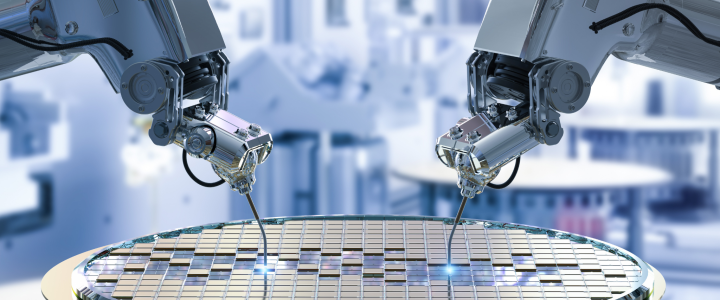 Texas has established itself as one of the nation's manufacturing leaders, with over 20,000 companies and nearly 1.3 million employees involved in operations across many industrial sectors. More recently, the presence of the semiconductor industry in Texas has progressed at an amazing pace. The height of that activity is along the I-35 corridor between Austin and San Antonio, and at the center of that stretch lies New Braunfels, TX. 
The city is strategically positioned between those two metropolitan areas to capitalize on the semiconductor momentum. New Braunfels offers an advantageous location for relocating and expanding companies. Customizable sites based around reliable and efficient infrastructure, an established supply chain, a diverse talent pipeline, supportive policies and incentives all position semiconductor manufacturing for success. Manufacturers facing decisions centered around cost and speed-to-market will find opportunities in New Braunfels today.
Regional Momentum
The semiconductor industry is surging in Texas as billions of dollars for R&D and chip manufacturing become available from the 2020 $52 billion CHIPS and Science Act. Samsung has a new $17 billion plant in the region expected to come online in 2024. The company is focused on several new chipmaking facilities in the Austin area that would be an investment in the regions of potentially as much as $200 billion and 10,000 jobs. NXP, which manufactures semiconductors at two locations in Austin, is investigating the possibility of a $2.7 billion expansion project in the city. The semiconductor supply market will need to ramp up to support such projects.
New Braunfels' potential
Numerous factors offer significant potential for semiconductor manufacturing and support companies to thrive by selecting New Braunfels for their new project or expansion.
Strategic Location
The area's infrastructure makes access to international markets and suppliers from New Braunfels efficient and reliable. Interstate 35 and Interstate 10 connect to the national transportation network. Port San Antonio is one of two intermodal logistics facilities in Texas. The San Antonio International Airport and Austin-Bergstrom International Airport deliver domestic and international air travel. Proximity to the state government in Austin offers governance inroads, including legislators, lobbying interests and more.
Growth
Amidst two of the eleven largest cities, New Braunfels is a dynamic growth model. A wealth of talented individuals flock to the region for an amazing quality of life and career opportunities. The United States Census Bureau ranked New Braunfels as the 5th-fastest growing large city at an 8.3% increase from July 1, 2020, to July 1, 2021. Adults in the area with a Bachelor's degree or higher have increased by 11% over the past five years. Economic growth has followed, demonstrated by the City's general fund budget revenue doubling over the past ten years.
Available Funding 
A focus on financial assistance extends well beyond the national CHIPS Act. The Texas CHIPS Act created the Texas Semiconductor Innovation Fund to subsidize companies seeking to locate semiconductor manufacturing operations in the state and invest in research and development at institutions like the University of Texas at Austin.
Locally, New Braunfels is a city with a pro-business environment targeting those aspects directly impacting success. The New Braunfels Economic Development Corporation (EDC) offered TaskUS a $300,000 grant to help aid its operations expansion project in 2022. Additionally, Continental had access to a $5.5 million EDC incentive package that included a land-acquisition grant of up to $3.3 million with its new state-of-the-art automotive manufacturing facility in New Braunfels in 2022.
Available industrial sites 
New Braunfels has several industrial developments along the I-35 corridor that offer companies in the semiconductor industry the opportunity to reach their objectives. The combined nearly 1.5 million square footage offers sites for manufacturing or complementary office, logistics and distribution functions.
Those seeking existing properties target the former Coleman manufacturing facility, 346,000 square feet of manufacturing, warehouse and office space. The property is 42 acres with plenty of power infrastructure and an active rail spur that offers room to expand the main facility. Another option is the 218,000-square-foot former Owens-Corning facility, suitable for manufacturing or distribution space with numerous docks and cranes, plentiful parking and office space. An additional option along the I-35 corridor is 2435 Goodwin Lane, an office and corporate industrial facility available to tenants. The approximately 102,000-square-foot property has the potential as a high-end, high-tech manufacturing facility, with a mix of warehouse and office space, well-equipped with heating, cooling, ventilation, elevators and more.
Newer sites are plentiful in New Braunfels as well. The Holcan Industrial Park has more than 4000,000 square feet of industrial space ready for new users. With proximity to the adjacent Walmart distribution center, manufacturers in the Holcan Industrial Park are in prime territory for rapid growth. With completion in 2024, the Rueckle Crossing Logistics Center will be a new Class-A 413,000-square-foot logistics distribution facility with a 36-foot clear height on 26 acres with excellent I-35 visibility.  
Talent & Training
New Braunfels' growth has led to one of the most significant labor pools in the country. Comal County is anticipated to approach a population of 400,000 by 2050. Beyond pure numbers, the labor pool is highly qualified. The fastest-growing segment of the workforce is college-educated individuals, with more than 85,000 individuals having a Bachelor's degree or higher, a 41% increase since 2017. This well-educated, high-potential workforce presents companies with quite an advantage. New Braunfels' recent Economic Benchmark Study indicated a daily net outflow of 4,576 in 2021. Production occupations represent the third largest outbound rate, with a net out-commuting of roughly 600 residents daily.
These individuals reside in a region that fosters continued education and training. Numerous quality educational institutions are part of the community, many working with companies on customized programming. Texas State Technical College (TSTC) and the Texas Federation for Advanced Manufacturing Education Lone Star Chapter (FAME) offer Advanced Manufacturing Technician collaboration, sponsored by local companies and is the newest addition to numerous programs tailored to help individuals and employers alike. Additionally, Howard Payne University offers bachelor's and master's degrees.
Fourteen educational institutions are within an hour's drive, highlighted by the University of Texas at Austin, one of the nation's top universities with world-class degrees that perfectly match a semiconductor operation needs.
Tech Beyond Semiconductor
Advanced manufacturing operations are realizing the potential of the benefits of the surrounding region. Tesla's Gigafactory Texas manufacturing hub places the region at the forefront of the automotive industry's future. Continental invested over $110 million to manufacture Advanced Driver Assistance Systems products at a new state-of-the-art automotive manufacturing facility in New Braunfels in 2022. Detex Corporation made a $16 million investment in 2022 to augment its access control alarm, annunciator panel and optically controlled turnstiles manufacturing. In New Braunfels.  
Make New Braunfels Your Tech Operation Home Today
New Braunfels has what semiconductor operations need now, from major corporations to small businesses. The thriving and unique community being built in New Braunfels offers continued long-term economic growth for semiconductor and other technology companies.
The New Braunfels EDC is eager to help your company find success in New Braunfels along the I-35 corridor. Contact us today to learn more about the advantages awaiting you!