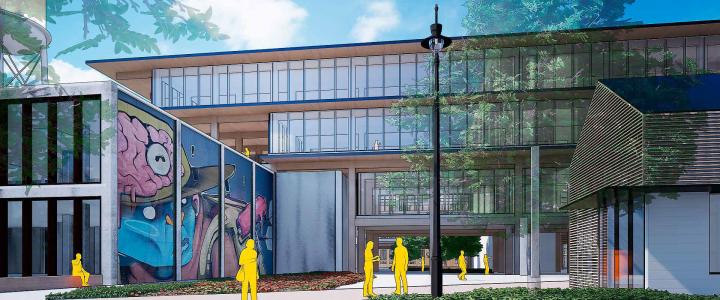 New Braunfels, TX, is poised to deliver incredible success to companies seeking a home for their regional offices and headquarters. A strategic location, an abundant and talented workforce, the potential offered by world-class educational institutions and a business-friendly economic environment are the primary advantages awaiting companies in New Braunfels. 
Those assets fit perfectly with companies in the Financial Services, Information Services and Professional Services sectors, illustrated by the incredible growth in New Braunfels and the region. Enterprises across all industry segments, from EV part suppliers to value-added agriculture manufacturers, that require management, business, financial, computer and engineering roles will find their needs match what New Braunfels can offer. 
One fantastic example is the only source of Class A office space between Austin and San Antonio. The Sundance office building is a new large office space at which PNC Bank seeks a sublease. The nearly 60,000 square foot office space allows for the ideal headquarters or regional office opportunity, less than five minutes from Interstate 35, yet close to downtown New Braunfels. 
Current resident companies
Numerous companies from multiple industry segments have headquarters and offices in New Braunfels today. TaskUs, which provides outsourcing customer service for the technology sector, relocated its corporate headquarters to New Braunfels from Santa Monica, California, in 2018.  Other corporations with headquarters in New Braunfels include:
Rush Enterprises, a total solutions provider to the commercial vehicle industry.
Simpson Race Products, an automotive racing and accessories company. 
Businesses like these and others in New Braunfels have experienced incredible growth. One embodiment of that fact is consistent employment increases in New Braunfels (54% increase over the previous ten years) but specifically in these sectors:
Professional Services employment increased by 1,258 jobs, a 99% increase over the past decade, compared to 77% across the Austin-San Antonio megaregion.

Financial Services employment increased by 540 jobs, a 67% increase over the past decade, compared to 34% across the Austin-San Antonio megaregion. 

Information Services employment increased by 183 jobs, a 57% increase over the past decade, compared to 44% across the Austin-San Antonio megaregion. 
The progress in New Braunfels also reflects regional momentum. The financial services company Charles Schwab officially moved its corporate headquarters in 2021 from San Francisco to Westlake, a suburb of the Dallas-Fort Worth metroplex. Many significant companies keep their corporate headquarters in the region currently:
The region has numerous regional offices of industry giants like Ernst & Young, Deloitte, Farmers Insurance, State Farm and Visa. 
The aggregate economic impact of these companies is significant, but the growth is staggering compared to a decade ago. The 2021 Gross Regional Product for Regional Headquarters was $1.5 billion, approximately double that of 2011. The 2021 GRP for the Financial Services sector was $529 million, while the Information Services sector was nearly $273 million, each more than double the decade prior. Estimates for five-year projected growth statistics for each are in the neighborhood of 20%.
New Braunfels advantages
Success in New Braunfels begins with its position in the heart of economic innovation and growth. The city's location between Austin and San Antonio, two of the ten largest cities in the U.S., allows companies to operate within the center of national and international opportunity. 
The area's infrastructure allows for easy access to economic hubs worldwide. Interstate 35 and Interstate 10 offer easy connectivity throughout Texas and the national transportation network. The San Antonio International Airport and Austin-Bergstrom International Airport deliver domestic and international air travel. Proximity to the state capital in Austin allows for high-level policy networking opportunities through access to legislators, government officials, lobbying interests and more.
Austin and San Antonio have become significant draws for industries involved in advanced technology, increasing the need for information and financial support services. The semiconductor industry is poised to surge in the region with anticipated CHIPS Act funding introducing billions of dollars for R&D and chip manufacturing locally. Samsung is considering a reported $200 billion investment for eleven new chipmaking facilities in the Austin area that could create more than 10,000 jobs. Tesla's new Gigafactory Texas manufacturing hub in Austin highlights the region's propensity for being at the forefront of the future of the automotive industry.  
Abundant and talented workforce
A booming New Braunfels population offers a boon for financial and information services offices. With the third-largest population increase in the country in the decade from 2010 to 2019 and a top-five population increase in 2021, New Braunfels has a talented and growing supply of potential employees to meet the needs of new and expanding companies.
That population growth has led to one of the most significant labor pools in the country. Comal County, of which New Braunfels is the largest city, is anticipated to approach a population of 400,000 by 2050. Additionally, its value exceeds the size, as companies can depend on a highly qualified workforce. The fastest-growing segment of the potential workforce is college-educated individuals. Residents with a Bachelor's degree or higher have increased by 42% since 2017, totaling more than 85,000 highly-qualified individuals in the area.
There is great potential for companies locating their regional office or headquarters in New Braunfels to recruit these well-educated high-potential residents. The city's recent Economic Benchmark Study reports a net outflow of 4,576 residents daily in 2021. The Business and Financial Operations segment had a net outflow of 530 occupations, with average annual earnings of $106,205. The Management segment saw a net outflow of 719 positions, with average annual earnings of $79,830. These individuals would likely welcome new opportunities within New Braunfels itself.
Educational hotbed
Companies in New Braunfels have the comforting reassurance of a high-quality workforce delivered by many high-quality educational institutions in their backyard. New Braunfels sits amidst one of the country's highest densities of world-class educational institutions, offering a continuous stream of qualified, highly-educated potential employees and the ability to access continuing education efficiently and consistently. 
The University of Texas at Austin, one of the top universities in the world, is an easy drive up I-35 from New Braunfels. Its McCombs Business School routinely receives rave reviews, such as having the top Accounting program in the country in 2022. Several other programs rank in the country's top ten in their field, including the top advertising, finance, MIS, marketing and petroleum engineering programs. 
More than fourteen universities lie within an hour's drive from New Braunfels, including the University of Texas at San Antonio, with its highly-ranked cybersecurity undergraduate program in the nationally recognized Carlos Alvarez College of Business. Locally, Howard Payne University New Braunfels offers bachelor's and master's degrees in business administration, management and MBA programs.
Business-friendly economic environment
There is room for more regional offices and headquarters in New Braunfels, with abundant available office space and vacant land for companies seeking to locate their regional offices and headquarters in New Braunfels. The local economic climate is perfect for making these locations a reality for companies across many sectors. One example is illustrated in the 2022 TaskUS expansion with the New Braunfels Economic Development Corporation providing a $300,000 grant to finish the project. Before that, the company worked with the City of New Braunfels and Comal County on tax abatements and a job grant in 2018 in coordination with its headquarters relocation. 
Texas is a state that understands how to make business work, illustrated by the numerous incentives it offers. The Texas Enterprise Fund, Texas Enterprise Zone Programs, Texas Product Development, Small Business Incubator Fund and Texas Leverage Fund are just a few examples. 
Be part of New Braunfels' growth
Casey Development is undertaking a redevelopment project (rendering featured above), transforming a former textile mill into a vibrant mixed-use development that will offer 130,000 square feet of office space. The project will breathe new life into the former industrial campus, bringing economic growth and community engagement to another New Braunfels historical location.
Economic growth is booming in the area, and the future looks bright. Contact the New Braunfels EDC today to become part of the exciting opportunities in New Braunfels!