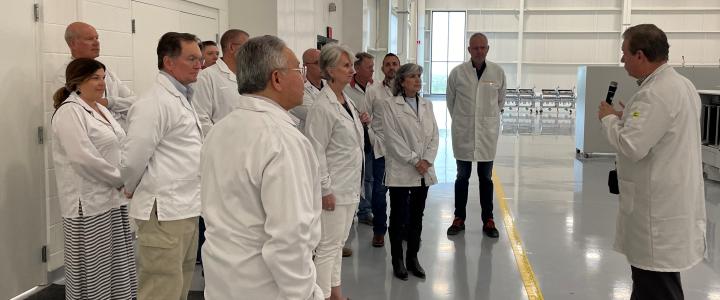 Yesterday, members of the New Braunfels Manufacturing Association had the opportunity to tour Continental's state-of-the-art autonomous vehicle manufacturing center. Participants received a plant tour as well as a presentation about the facility's operations and impact on the New Braunfels economy.
The New Braunfels Manufacturing Association (NBMA) is a forum of New Braunfels manufacturing industry professionals and associates. NBMA exists to communicate and resolve common needs, problems, and objectives of manufacturers of all types across Greater New Braunfels. The association meets monthly for collaborative presentations that promote a positive image of industry in the community. They also work with the NBISD and Comal ISD CTE programs, as well as participate and volunteer in industry events. NBMA and its members are also proud supporters of the TX FAME Lone Star Chapter that will be launching in partnership with Texas State Technical College (TSTC) at the Central Texas Technology Center (CTTC) in the fall.
Continental Automotive New Braunfels manufactures products for Advanced Driver Assistance Systems (ADAS), such as radar sensors that are the foundation of assisted and automated driving. Their new, 215,000-square-foot New Braunfels facility is the company's first of its kind in the United States. Beginning production in late 2022, Continental New Braunfels recently celebrated the completion and shipment of its one-millionth ADAS unit out of the facility. They are currently expanding and are hiring across multiple positions.
For more information about becoming a member of NBMA or TX FAME, please contact Mike Crowley, Director of Workforce & Industry Development.