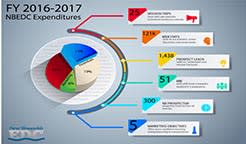 Attached is a new infographic showing results from NBEDC staff-led marketing efforts during the 2016-17 city fiscal year. 
The infographic includes the number of mission trips, web stats, prospect leads, BRE visits, properties listed for free on the NB Prospector site, and the city's 5 economic development strategic goals (5). 
In addition, the infographic outlines the NBEDC investments as a percentage during this fiscal year.  Quality of Life tallied 62% of the total funds invested, followed by incentives at 19%, infrastructure at 13%, and marketing at 6%.