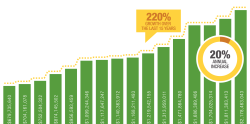 Year 2019 will go down as one of the most successful in City history regarding the addition of primary jobs and capital investment. Information distributed at the October 8 Foundation Luncheon by staff outlined 14 different projects and/or initiatives either completed or in process toward completion. The most recent announcement was PNC Bank selecting New Braunfels for their new operations center with over 500 jobs.
Most recently, the New Braunfels Economic Development Corporation, a.k.a. 4B Board, approved an incentive agreement with McCoy's Corporation for their expansion project in the City of New Braunfels. The City is also working with a Tier 1 automotive supplier that would bring 500 new jobs and over $100 million in capital investment into the community by 2021. Lastly, an existing firm is looking to expand by 30,000 square feet and 125 jobs in the near future.
An Airport Master Plan has been adopted by City Council, and the Austin-San Antonio Growth Summit was held in New Braunfels on September 25 with record attendance. The Veramendi Development is adding homes, drainage structures, more roadways, and plans for commercial development throughout next year. Calendar Club Corporation expanded their operations in the Stream USAA building off Interstate 35 by 30,000 square feet including more jobs.