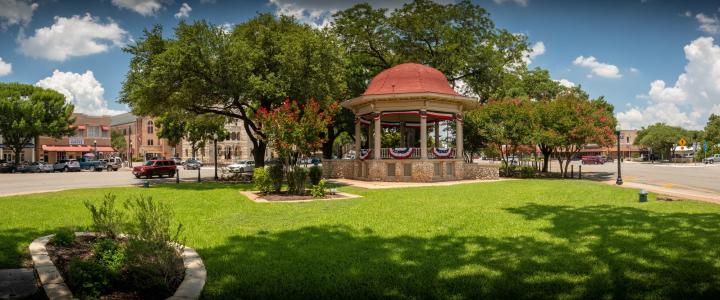 New Braunfels, TX, is a growing city, increasing in popularity for businesses to flourish and people to thrive. In fact, New Braunfels has been ranked among the top five fastest-growing communities in the United States since 2020. Much of that is related to booming economic possibilities for manufacturing companies, headquarters locations and distribution/logistics operations. However, ask a resident about the secret to New Braunfels' success, and they will offer a fantastic quality of life as the top reason. 
The destination typically includes great schools, quality healthcare, and safe neighborhoods. Plentiful year-round outdoor recreational amenities amidst a diverse historical culture make living in New Braunfels a unique and refreshing experience. 
Flavor for life
Nestled in the beautiful Texas Hill Country, New Braunfels is a picturesque city surrounded by rugged hills, clear rivers and forested landscapes. The Comal River runs through the city and joins the Guadalupe River, which flows through Texas on its way to the Gulf of Mexico. The lush panoramas and clean water have been a natural draw for people from many backgrounds throughout history, resulting in a unique blend of German, Hispanic, and American culture. 
New Braunfels' weather never ruins the fun, with more than 300 days of sunshine a year, making it an oasis of year-round outdoor recreation for visitors and residents alike. A thrilling collection of outdoor activities and intriguing cultural attractions make New Braunfels the perfect place to call home. At the same time, it is a superb destination for an iconic relaxing or exhilarating getaway, based on a person's preference. The Greater New Braunfels Chamber of Commerce Convention & Visitors Bureau Department is the definitive resource for all regional recreation opportunities. Read on for some of the highlights below. 
Fun on the water
New Braunfels is known regionally as a water recreation destination. The clear waters offer a relaxing respite from the summer heat through many water recreational activities. While the Comal River is the shortest navigable river in Texas, it is known as the "longest shortest river in the world" for the tremendous amount of fun available. The City Tube Chute is built into a downtown dam, with a short path from the bottom to the top to make the run over and over again. Floating the Comal takes "tubers" right through downtown New Braunfels on its way to the confluence with the Guadalupe, with a longer and just as enjoyable float experience. Kayaking, canoeing, paddle boarding and fly fishing are also enjoyed on the Guadalupe.
If the classic lake experience is more your style, New Braunfels is the perfect location for that too. The Canyon Dam, upstream from New Braunfels on the Guadalupe River, forms Canyon Lake, often called the "Water Recreation Capital of Texas." It covers over 8,000 surface acres to explore for the ideal swimming, boating or fishing spot, with several beaches and numerous hiking and biking trails along the 80 miles of shoreline. Those wishing to stay awhile have several options, from bed and breakfasts to camping options along the lake. 
Another source of outdoor fun is the Hill Country Coast, an area along the banks of the Guadalupe River between Canyon Lake and New Braunfels. The historic River Road follows the river from New Braunfels, lined with Cypress trees and stunning vistas. 
Manufactured water fun is also a highlight in New Braunfels, beginning with Landa Lake, the creation of the Comal River dam. Its crisp and crystal clear waters offer relaxation and recreation in the three pools of the Landa Park Aquatic Complex. A spring-fed pool, one of the oldest in Texas, stays at 72° year-round. A zero-depth pool offers a splash pad experience for children, while the Coach E.E. "Bud" Dallmann Olympic Pool provides lap swimming. The Schlitterbahn Waterpark and Resort, consistently named the "World's Best Water Park," is filled with river rides, pools and waterslides for all ages. The Texas Ski Ranch is an amazing 70-acre complex, noted as having some of the best wakeboarding and water cable system recreation in the world.
Much to do on land as well
New Braunfels is an active community off the water as well. A network of trails for walking, hiking, biking and other pursuits weave their way throughout the city and the surrounding area. Such dedication led to the Comal Trails Alliance, a nonprofit organization supporting local parks and recreation departments in developing, maintaining and promoting trails. Panther Canyon Trail begins in New Braunfels near the headwaters of the Comal Springs and runs for nearly two miles into the forested Balcones Escarpment. The paved County Line Memorial Trail runs more than two miles through area neighborhoods, while the Dry Comal Creek Trail is a 2.25-mile loop and the only mountain bike trail in New Braunfels. Outdoor enthusiasts flock to the Canyon Lake area for other biking and hiking trails - see the details and maps here. 
New Braunfels is a dog-friendly community too, with many trails, parks and other outdoor places to enjoy. This extensive list is an excellent resource for local opportunities to get outside with four-legged friends.
The microbrew furor is alive and well in New Braunfels, with several excellent breweries and wineries presenting their creations. New Braunfels is also part of the Hill Country Craft Beer Trail that features ​​more than a dozen independent breweries throughout Central Texas. 
A list of outdoor recreation activities is never complete without referencing golf. New Braunfels has two phenomenal courses for novices and experts alike. Landa Park Golf Course at Comal Springs is an 18-hole public course, playing through 122 acres of iconic Texas Hill Country vistas. The Bandit Golf Club has been rated a Top 10 Public Course in Texas, with 18 holes playing at a par 71 at nearly 7,000 yards from the longest tees. 
Outdoor community & culture
Other forms of outdoor recreation are popular in New Braunfels as well. Whether it's to relax after an active day on the water or the trails, or a form of outdoor recreation on its own, strolling through town can be a wonderful outdoor experience. New Braunfels has grown into a unique cultural community based on German and Hispanic roots. As a result, the collection of community events offers a unique experience not to be found elsewhere. New Braunfels' historic downtown is perfect for strolling amidst unique shops and restaurants. The German heritage is evident in the annual Wurstfest, a "ten day salute to sausage" and German culture each November, while the holiday season brings Wassailfest and Weihnachtsmarkt. The area's Hispanic heritage is equally noticeable. The annual Dia de los Muertos Festival showcases Hispanic culture through traditional music and cuisine. The city erects a temporary ofrenda for families to honor their loved ones during the celebration. 
Gruene Historic District is a restored 19th-century town of historic architecture emphasizing its German roots through unique shops, restaurants and Old Gruene Market Days, a monthly event, except January, with art, food and live entertainment.
New Braunfels adds live music at wonderful venues to the list of outdoor recreation. Gruene has the oldest dance hall in Texas, Gruene Hall, which has fostered the careers of many national artists. Whitewater Amphitheater hosts local and national up-and-coming and nationally known bands for performances in its outdoor venue along the Guadalupe River.
Enjoy life in New Braunfels
Getting outside in New Braunfels is a year-round endeavor. While working in New Braunfels may be an increasingly popular draw for families and individuals, outdoor recreation will be the absolute reason they decide to stay! Learn more today about the opportunities awaiting you in this fabulous city from the New Braunfels EDC!