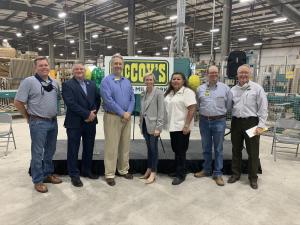 McCoy's Door and Millwork will continue to call New Braunfels home – only in a bigger building. As a result of a business retention and expansion (BRE) visit, the NBEDC team was able to retain McCoy's Door and Millwork facility and their employees in New Braunfels. During the visit the existing operation was at full production, and the production manager said if they had more space they could fill it up with more orders and increase production; the ED Team stated that when they get to the point of expansion to let us know and schedule another visit. A couple weeks later, McCoy's CEO Brian McCoy walked through the production facility and had the same observation and heard the same comments. A production team member told Brian that he should check out this building that was located only a short distance away – and he did.
The next morning the McCoy's Real Estate Team asked for a tour of the building. The NBEDC team discussed the building and the initial thought was that it could work with some modifications. During the visit, there were numerous measurements taken, lots of head scratching, some mumbling, and even some what if scenarios that were discussed. About two weeks later the project heated up again and there were more measurements and more what if scenarios proposed – then the comment was "we will take it, how soon can we close." This is where we can say that the rest is history, but not so fast.
Closing really went fairly quickly, and the engineers and architects were busy scribbling on tablets and taking pictures while the closing was progressing. The NBEDC team was calculating the cost benefit analysis of keeping the neighbors producing their products in New Braunfels. McCoy's understood that NBEDC could help with some of the infrastructure upgrade needs if they were going to add additional employees to the McCoy's Team in New Braunfels and the immediate response was, "You bet, we are adding employees and will have about 97 at full production." The NBEDC Team worked out the cost benefit and provided a proposal to the McCoy's Team, and the deal was made.
The day after closing, the demolition permits were submitted and the preconstruction meeting was held. This wall was gone, that wall was gone, this floor was leveled, the overhead lights were replaced, and the office space gutted. Fast forward – after 60 days of demolition and construction, the production equipment began to move from the old location to the new, and 90 days production in the new facility commenced.
The onset of the pandemic delayed the ribbon cutting – or in McCoy's fashion, a board cutting but the new facility was opened. The facility looks great inside and outside and the production levels are on the steady rise as the McCoy's Team aims to increase their team members to 97. Thanks for staying our neighb