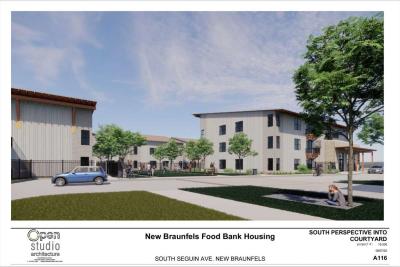 From the San Antonio Express News | Madison Izsler
The San Antonio Food Bank plans to build a $9 million apartment complex next to its New Braunfels branch for financially struggling families in the area.
The organization's clients in fast-growing New Braunfels are facing rising housing costs, pushing many to move outside the city of more than 90,000. That means more time commuting to work and having to switch school districts.
"The biggest driver for a lot of the families on why they're coming in to get food is because they can't afford their rent and buy food," said Eric Cooper, president and CEO of the San Antonio Food Bank. "The cost of housing in Comal County has just skyrocketed over the last decade."
The nonprofit is also trying to help working parents build financial assets and achieve self-sufficiency, Cooper said. Tenants will pay reduced rents and have access to child care.
Along with working with clients coming into the New Braunfels Food Bank, staff there will work with other local nonprofits to help identify clients for the 51-unit complex, dubbed the Apple Seeds Apartments. Residents will live there for two or three years. A portion of their rent will go into a savings account, which could be used for education or a down payment for a house after they complete the program, Cooper said. Rents for the two- and three-bedroom apartments have not yet been set.
Families will also take classes. Programming is being ironed out but could include budgeting or parenting skills. Families will have day care at an on-site facility; the food bank is looking to partner with another nonprofit or third-party group for the center.
Construction of the complex at 1530 S. Seguin Ave. is expected to start in April and take about a year to complete, a filing with the Texas Department of Licensing and Regulation shows.
The food bank is raising funds for the project. It has raised about one-third of the cost so far, which includes commitments from the New Braunfels-based McKenna Foundation, the San Antonio-based Kronkosky Charitable Foundation and others, Cooper said.
Building housing next to the New Braunfels Food Bank has long been part of the plan.
The 2018 New Braunfels Housing Study reflects the need for more than 5,000 affordable rental units and likely considerably higher now.