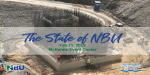 New Braunfels Utilities CEO Ian Taylor presented the State of NBU Feb. 12th to the GNBEDF Annual Meeting attendees. Taylor explained that the extreme growth in both population and commercial businesses are having an impact on the utilities infrastructure which includes water, wastewater and electric. NBU is embarking on a $500 million capital campaign over the next five years to stay abreast of this growth and demand.
Taylor explained challenges with water distribution and how they will catch up on service issues, especially in the Avery Park section of the community. NBU has made great strides via partnerships with entities such as GBRA and Seguin, among others. Taylor explained the Aquifer Storage Recovery Initiative and how that project should be online by 2021. They have a goal to reduce customer average daily usage 25% over the next 20 years as a key business strategy. In the wastewater side of their business, Taylor explained issues at various lift stations and what they are doing to alleviate the challenges. In the electric side of the utility, Taylor reviewed future substations.
Technology has become a major part of NBU, utilizing line sensors, drones and smart meters for leakage detection. Rates for customers are some of the lowest in the nation for both electric and water. Their bond rating is high and may have a long history of substantial dollar transfers back to the city each year. Taylor closed with information about the Headwaters at the Comal project, volunteerism by NBU employees, and their plans to possibly become a regional water supply.