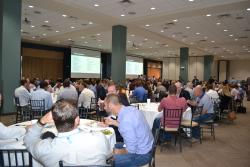 At the October 8 Greater New Braunfels Economic Development Foundation Quarterly Luncheon and Board Meeting, City Manager Robert Camareno provided the State of the City Address. The crowd of nearly 300 also received an executive abstract of the city manager's presentation.

The presentation and abstract provided specific population estimates and projections, as well as heat maps showing commercial and residential permits year-to-date in the city. With New Braunfels being the second fastest growing city in the country, Camareno noted we are also the fastest growing city in the state of Texas.

Camareno had several slides with details on the recently adopted 2019-2020 budget along with budget priorities. The executive abstract summary contains charts and graphs on sales tax, property tax rates in the region, and the use of the City general fund and budgeted expenditures. Camareno also updated attendees on the capital projects ongoing in the city, partly due to passage of the May 2019 bond issue, as well as capital expenditures by New Braunfels Utilities. He credited partnerships with various entities in the community, including the Greater New Braunfels Economic Development Foundation.