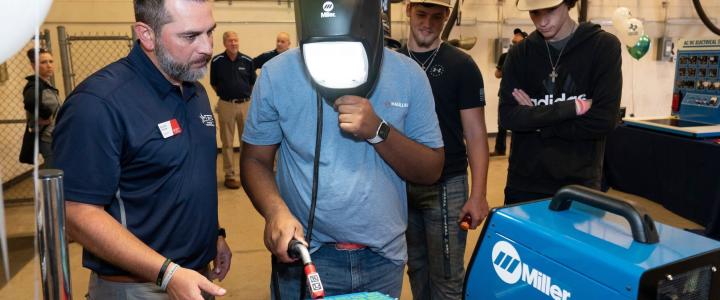 New Braunfels, TX, has been riding a wave of remarkable economic growth for over a decade. A major contributing factor behind that success is the presence of a large, talented and growing workforce. The potential for business success is supported by these individuals across all industry sectors and employee roles, from the graduate-level scientist to the Advanced Manufacturing technician. Several area advantages exist, from the incredible quantity and quality of potential employees to a unique density of world-class universities and workforce training facilities, that will keep New Braunfels at the forefront of continued economic success.
Talented, growing labor pool
Located between two of the eleven largest cities in the U.S., New Braunfels delivers an enviable advantage to local companies through the presence of a growing and talented workforce. Its overall population is booming, illustrated by the fact it had the third-largest population increase in the country from 2010 to 2019 and a top-five population increase in 2021. As a result, Comal County, of which New Braunfels is the largest city, is anticipated to approach a population of 400,000 by 2050.
That population growth has led to one of the most significant labor pools in the country, with potential employees to meet the needs of new and expanding companies in a broad range of industry sectors. Recent momentum in the region has moved toward advanced technology, raising the potential for tens of thousands of jobs. Examples include Tesla's new Gigafactory Texas manufacturing hub and the possibility of a reported $200 billion Samsung investment for eleven new chipmaking facilities. The need for college-educated employees will likely rise significantly with these investments, which is excellent news for New Braunfels, as the fastest-growing segment of its potential workforce is college-educated individuals. Residents with a Bachelor's degree or higher have increased by 42% since 2017, totaling more than 85,000 highly-qualified individuals in the area.  
Additionally, many New Braunfels residents leave the city for work. The city's recent Economic Benchmark Study reports a net outflow of 4,576 residents daily in 2021. Presumably, many of those individuals would prefer to stay to work in New Braunfels.  
Proximity to world-class educational Institutions
Companies in New Braunfels can draw on an extremely talented labor pool living and working locally. That scenario has the potential to continue like no other location in the country because New Braunfels sits amidst one of the country's highest densities of world-class educational institutions. Accessing continuing education efficiently and consistently will contribute to a continuous stream of qualified, highly-educated potential employees available to all businesses, regardless of size.
The University of Texas at Austin, one of the top universities in the world, is an easy drive up I-35 from New Braunfels. Its McCombs Business School routinely receives rave reviews, such as having the top Accounting program in the country in 2022. Several other programs rank in the country's top ten in their field, including the top advertising, finance, MIS, marketing and petroleum engineering programs.
More than fourteen universities lie within an hour's drive from New Braunfels, including the University of Texas at San Antonio, with its highly-ranked cybersecurity undergraduate program in the nationally recognized Carlos Alvarez College of Business. Locally, Howard Payne University New Braunfels offers bachelor's and master's degrees in business administration, management and MBA programs.
Critical training in New Braunfels itself
Significant momentum is building for workforce training opportunities in New Braunfels itself. The passage of Texas House Bill HB4997 in May 2023 allows Texas State Technical College (TSTC) to operate in Comal and Guadalupe Counties. With HB4997, TSTC and the Texas Federation for Advanced Manufacturing Education Lone Star Chapter have partnered to bring an Advanced Manufacturing Technician program to the Central Texas Technology Center (CTTC) in New Braunfels. This fall, students can begin earning an Associate of Applied Science in Advanced Manufacturing Technician track of over 60 college credit hours and two years of competitively paid work experience. The apprenticeship-type program will allow students to "earn while they learn," attending classes at TSTC two days a week while working with a sponsoring company three days a week. Manufacturing partners involved with the program are Alamo Group (TX) Inc., Caterpillar, CavcoHomes of Texas, CMC Commercial Metals, Continental Automotive, Detex, HEB, Hexcel, Minigrip, Republic Plastics, Tito's and Vitesco Technologies.
Kenneth Kuehler, President/CEO at the New Braunfels manufacturing company Detex Corporation, said, "At Detex, we are proud… not only to be a contributing, supportive member of the thriving New Braunfels community, but also to serve the community's economic ecosystem by providing fulfilling employment opportunities for local residents and security for their families. We are also proud of our century-long heritage of designing and manufacturing high-quality products that lead the security industry in the U.S. and abroad. We aim to continue these traditions for the next 100 years."
In early 2023, Northeast Lakeview College, a member of the Alamo Colleges District, became the lead college for the CTTC. The Center will work with area economic development partners to provide higher education and technical skills training to meet the needs of individuals and employers with high-demand occupations in the region. Students can engage in core academic classes and short-term workforce training for Medical Assistants, Medical Front Office, Information Technology and Vocational Nursing programs at the New Braunfels location. In a 2023 CTTC announcement, Dr. Mike Flores, Chancellor of the Alamo Colleges District, said, "The Alamo Colleges District is pleased to continue our service in one of the area's fastest-growing regions. There's a tremendous value in this partnership to the New Braunfels and Seguin communities and alignment to the education and workforce needs. Students who live in the area will continue to have the opportunity to study high-demand, high-wage career paths under the Alamo Colleges umbrella close to home."
Find talent today!
A vibrant, talented workforce is one of the main contributors to the booming economic growth in New Braunfels today. Its presence will ensure a bright future for any business located in New Braunfels. Contact New Braunfels EDC today to learn how these talented individuals can get to work for you!