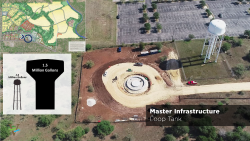 The Veramendi Development continues to expand as outlined in the city-approved development plan.  Representatives of ASA Properties shared an update with the Foundation that coincided with a presentation to the NBEDC on Oct. 15. In the presentation, ASA detailed the 1.5-million-gallon, elevated water storage tank that has begun construction. The crane can be seen as you drive past on the Loop. It is anticipated to be completed in December of 2021 and will add to NBU's infrastructure.
Additionally, Veramendi Dam No. 2 is underway and anticipated to be completed by June 2021. It will hold 2.5 times what is required for all of Veramendi and stand 30 feet tall at its highest point. It is an earthen dam with a 20 million cubic feet detention capacity.
Construction on the first phase of single family residential homes continues and sales continue to be strong across all five builders, Gehan, Pulte, Perry, David Weekley, and Scott Felder, projecting to have sold over almost 250 homes by the end of this year. The next phase of single family residential is under the entitlement and civil permitting process. The age targeted single family development, Vista Alta, has begun civil construction for over 60 homes. Construction has also started on the first HOA Amenity that includes a pool, pavilion, splashpad, and fitpod and the initial phase of the trails continues to grow as more land is developed.
The first phase of Commercial on the Loop is under master design and has gone out to market. Tenant interest is growing back from the fall that it had due to the pandemic.