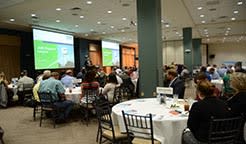 NBU Water Services Director Trino Pedraza gave attendees to the July 10 Foundation all-member board luncheon an update on the New Braunfels Utilities water supply plan.  The plan includes an aquifer storage recovery (ASR)project at the New Braunfels Regional Airport.
Pedraza explained current and future NBU-service area water supply figures and forecasted demand through 2038.  Without projects such as an ASR, the utility would see demand above their firm yield or availability in 2020.   The ASR, once on line, can increase the storage volume by 7,000 acre feet and have a recovery capacity of 9 million gallons per day.  
NBU has worked with the city, the FAA, and the EAA to date to move the project forward.  San Antonio has utilized their ASR project for years, successfully storing excess water for use during drought conditions.  The ASR would be constructed on property at the airport.  Data from test wells are now being monitored and final approval will come from the EAA. 
NBU's additional water supply new sources include from the City of Seguin, expansion of their current surface water treatment plant, the GBRA Mid-Basin project, and expansion of the NBU Trinity Aquifer wellfield. Each water supply project above will enable NBU to have water supply in excess of projected needs well into the future.