New Braunfels Benchmark Study 
To download the

, click here. To view larger images, click on each picture
New Braunfels' population continues to grow over three times the rate of Texas, adding half of one percent of the state's population. Since 2010, our city resident population has grown by 50%, averaging nearly 5% a year. Such growth can be attributed to our location on IH-
35, between the two metropolises of Austin and San Antonio, as well as great quality of life and excellent public schools. Veramendi, a 2,400-acre mixed-use development, is on track to build over 5,000 new single-family homes to accommodate the growing community.
Recent announcements by Continental and McCoy's Building Supply are just a few of the numerous developments taking place to support our growing population.
                    
Per Capita Commercial Investment benchmark was created to indicate how the local economy was attracting commercial investment. The 10-year average is $1,810. Taxable value in New Braunfels is up nearly
$5.4 billion since 2010. The tax rate levied by the city is
JOBS IN NEW BRAUNFELS
Since 2003, New Braunfels has enjoyed a lower unemployment rate than the nation, state, region and nearby metro areas. The rate averaged 4.3% between 2003 and 2019. Due to the pandemic, the 2020 unemployment rate reached over 13% but quickly recovered and
is now below 6%. In 2020, primary employers invested over $160 million in capital projects.
Seventy-three percent of jobs in New Braunfels are filled by employees commuting into the area, proving that the community enjoys a larger and available labor shed. Additionally, 72% of employed citizens commute outside the city for employment. 
NEW PRIMARY JOBS
This custom benchmark has been set locally since 2003, with input from 61 primary employers. Primary employers are those producing a good or service here with a majority of that good or service sold outside the trade area. Announced new primary jobs have averaged 1,167 per year since 2010.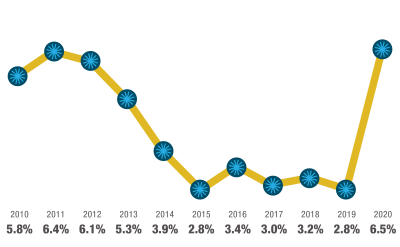 PROPERTY VALUATIONS​
New Braunfels property valuations increased in 2020 over $6.4 billion since 2010 and rose 13% over last year. Since 2010, the increase has been a total of 132%. There has been an increase every year. Residential permits exceeded 2,000 permits in 2020, a record. Since 2010, more than 15,202 single-family homes were added.
SALES TAX REVENUE RECEIPTS
Sales tax revenues in New Braunfels have increased by 88% since 2010. In 2020, sales tax revenue set new records despite a pandemic. Sales tax revenue is the largest local revenue source for city government services. Another custom benchmark, office space inventory, has grown 96% since 2019. 2020 marked the second year that total office square-footage exceeded one million. More than 16% new office space was added in 2020 from 2011.
NEW BUSINESS METERS
New Braunfels meters are measured by the city-owned utility for electricity, water and wastewater. In 2020, we equaled the 11-year average; that's 1,724 new businesses in the past 11 years. In 2020, commercial/industrial
taxable value increased 10.9%. Since 2010, these values have increased 156%.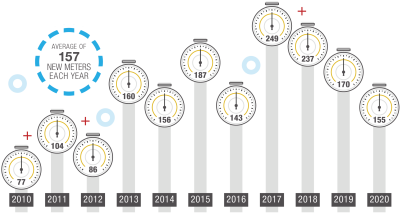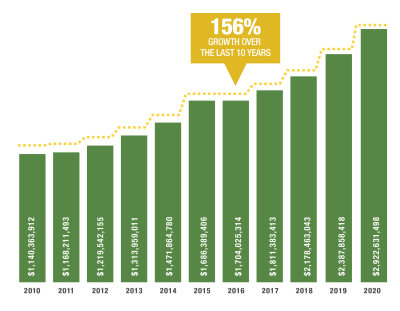 AVERAGE HOME VALUE
Median household income rose 26.3% in New Braunfels over 2019. This is higher than the state and metro-area average.
To download the brochure, click here