Skilled, Reliable Workforce
The center of a well-trained available workforce, New Braunfels touts a strong work ethic among its population. The diverse industry sector employs workers in a variety of professions including: aerospace, automotive, construction, engineering, financial, healthcare and manufacturing.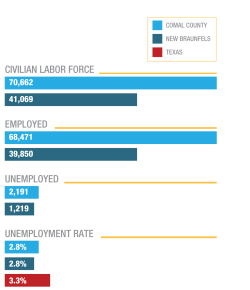 In the last 16 years, the workforce has increased by almost 85% and new primary jobs have more than doubled adding an average of 966 new jobs per year. Both the Civilian Labor Force and Employed base have steadily increased 
In March 2020, the first NBEDC Primary Workforce Study was commissioned pre-pandemic and included an employer survey. While the survey was put on hold, the study was continued and is now available. The mission of the study was to analyze the current workforce environment and due to the most recent data. 
Executive Summary
Here are some of the study findings: 
Comal County, TX is a hotspot for primary employer jobs. The national average for an area this size is 38,443 employees, while there are 43,182 here.
Earnings are low in Comal County, TX. The national median salary for your occupations is $34,546, compared to $29,845 here.
Job posting activity is about average in Comal County, TX. The national average for an area this size is 1,194 job posting/mo, while there is 1,117 here.
Industry Summary
The Primary Industry Summary provides a detailed summary of the data related to a specific industry (primary employers, defined by NAICS code), including jobs and occupations, trends, growth, demographics, and more. For Comal County, the 13,000+ jobs for the primary industries collectively outweigh the national average by 50%.


| | | | | |
| --- | --- | --- | --- | --- |
| Region | 2018 Jobs | 2019 Jobs | Change | % Change |
| | 12,879 | 13,055 | 176 | 1.4% |
| | 11,077 | 11,204 | 127 | 1.1% |
| | 1,793,558 | 1,805,014 | 11,456 | 0.6% |
| Comal and Guadalupe Counties | 21,196 | 21,308 | 112 | 0.5% |
Industry Group Jobs and Earnings Comparison
In comparing each of the primary industries jobs and earnings in Comal County, Wholesale Trade seems to provide the highest wages, followed by Finance and Insurance while Retail Trade supplies the highest number of jobs.


Occupation Summary
Primary occupations (as defined by the primary employers in Comal County) collectively are higher than the national average while the wages are slightly below the national average.
---

43,182

Jobs (2018)

12% above National average

---

 

---

+1.8%

% Change (2018-2019)

Nation: +0.7%

---

 

---

$14.35/hr

Median Hourly Earnings

Nation: $16.61/hr

---

 
Percentile Earnings Summary
---

$10.61/hr

25th Percentile Earnings

---

 

---

$14.35/hr

Median Earnings

---

 

---

$21.66/hr

75th Percentile Earnings

---

 
Occupation Group Jobs and Earnings Comparison
In comparing the types of occupations as determined by the Primary Employer by NAICS code dataset, Office and Administrative hire the most amount of people while Management Occupations award the highest salaries. Notably, Healthcare Practitioners have the second highest salaries.


Jobs Summary
More than 10,000 unique job postings indicate a highly active market and contributes to the reputation of a quality workforce in New Braunfels and Comal County.

There were 54,186 total job postings for your selection from February 2019 to August 2019, of which 10,874 were unique. These numbers give us a Posting Intensity of 5-to-1, meaning that for every 5 postings there is 1 unique job posting.
There are 1,792 advertised salary observations (16% of the 10,874 matching postings.)

To access the complete study, click here.