Demographic Profile
You can download the 

2019 Demographic Profile Here 
2018 POPULATION: CITY: 84,612   COUNTY: 148,373
CENTERED BETWEEN AUSTIN AND SAN ANTONIO
Each year, more than three million visitors come to New Braunfels to explore the shopping and recreational activities steeped in German and Hispanic culture and heritage. The city's strategic location has created opportunities for growth in the global market and an ability to satisfy the needs of the international shopper.
Located almost equal distance between the Alamo (San Antonio) and the State Capitol (Austin), New Braunfels has easy access to major highways with IH-35 running through the city's center, and IH-10 only 10 minutes east. New Braunfels' strategic location is only a three-hour drive to trade gateways into Mexico, Central and South America. Additionally, New Braunfels is close to nearby air, rail and bus services.
DISTANCE TO MAJOR CITIES
Ne​w Braunfels is within a four-hour drive of over 12 million people.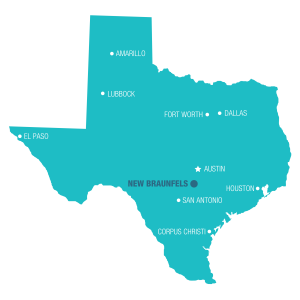 San Antonio. . . . . 30 miles
Austin. . . . . . . . 45 miles
Houston . . . . . . 178 miles
Corpus Christi. . . . 176 miles
Laredo. . . . . . . 196 miles
Dallas. . . . . . . . 245 miles
Monterrey. . . . . . 431 miles
Mexico City. . . . . 781 miles
Los Angeles. . . . . 1,383 miles
New York. . . . . . 1,786 miles
GROWING POPULATION
Ranked as the second fastest-growing county and second fastest-growing city in the nation, Comal County and New Braunfels are experiencing an unprecedented growth rate — growing at an average of 6% per year; an 88% increase in the last decade. The city's population surpassed 70,000 in 2015 and is projected to reach 85,000 by 2021. Founded in 1845 by German settlers, New Braunfels' population includes many German and Hispanic descendants.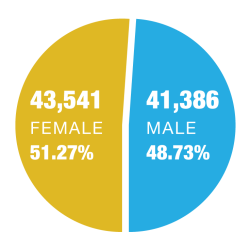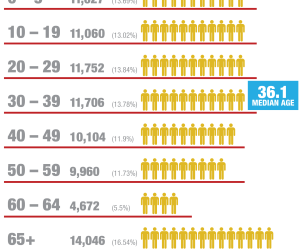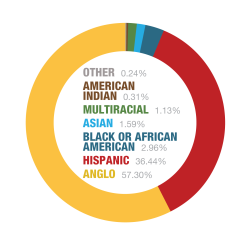 SKILLED, RELIABLE WORKFORCE
The center of a well-trained, available workforce, New Braunfels touts a strong work ethic among its population. The diverse industry sector employs workers in a variety of professions including: aerospace, automotive, construction, engineering, finance, healthcare and manufacturing. In the last 16 years, the workforce has increased 85% and new primary jobs have more than doubled since 2003, averaging 966 primary jobs per year.
AFFORDABLE COST OF LIVING, UNIQUE QUALITY OF LIFE
An affordable cost of living is enhanced by low city, county and school district taxes to create a composite cost of living score below the national average. New Braunfels is considered a great place to live, work and play.
MAKING ROOM FOR FUTURE GENERATIONS
New Braunfels and Comal County have two school districts: New Braunfels ISD (NBISD) and Comal ISD (CISD). New Braunfels ISD is primarily within the city limits while Comal ISD spans 589 square miles of Central Texas and includes parts of five Central Texas counties: Comal, Bexar, Hays, Kendall, and Guadalupe. Employing more than 1,000 workers and enrolling 8,925 students, NBISD encompasses 15 campuses. CISD is one of Texas' fastest-growing districts, with 30 schools, and since 2009 has grown by 8,000 students. Both school districts are Academically Acceptable by TEA ratings.