Meet the New GNBEDF Board Members
Each year, a few GNBEDF Members rotate onto the Board. Here is an opportunity to learn more about them. 
Rusty Brockman

Since retiring from the Chamber of Commerce in March 2018, he has had the opportunity to work for Cemex Balcones Quarry & Cement as the Community Relations Coordinator and most recently, elected as the Mayor of New Braunfels.  During normal times, without a pandemic, he is responsible for arranging tours of both the quarry and cement plant.  Tours are scheduled for elementary, middle and high school students from both the CISD and NBISD.  They also arrange tours for engineering students from UTSA and Texas State.
Todd Blackmon

is the Managing Vice President of Pape-Dawson Engineer's New Braunfels office. Over his 25 years with the company, Todd has been involved with and overseen a wide range of Commercial, Residential, Master planned, Industrial and infrastructure projects across the state. When not busy leading this office, Todd spends his time enjoying his family, serving in his church, running, reading and being outdoors.
Liz Grindstaff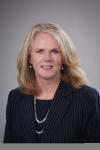 is a new Account Director for Freese and Nichols, based in the Austin office, to work with client cities in Central and West Texas. In her last city, she retired as an Asst. City Manager and went to work as Vice President of Sales & Marketing for the regional railroad, Texas-Pacifico. During that time, she served on the board of the Chamber of Commerce, the Airport Board, the Economic Development Corp, and eventually the San Angelo City Council. She was later recruited by Texas Central Partners, developers of the high speed rail project from Dallas to Houston, to work with stakeholders in the rural section of the route. Freese and Nichols was, and still is, working on the project's federal permitting, and because of that relationship, I had the opportunity to join FNI. 
Russell Harder

is a Senior Project Manager at Bartlett Cocke General Contractors and has worked there for over 15 years. Russell graduated from Texas A&M University in 2004. He was raised in the New Braunfels area and currently resides in New Braunfels. He is married to his wife, Kristen, and they have three boys, Bransen, Stetsen, and Lawsen. He is also an active board member of ABC South Texas and a member at Oakwood Church.