Message from the Chair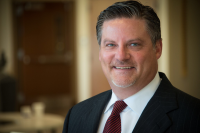 By the time you read this, Wurstfest will be upon us and fall will hopefully bring cooler weather.  Fall also is a time for your Economic Development Foundation (EDF) to begin planning for the following year.  Our city is growing both in population but thankfully also commercially.
That growth was outlined well by City Manager Robert Camareno at the EDF Quarterly All-Member Board Luncheon October 8.  The nearly 300 in attendance also received an executive abstract of the facts and figures presented.      
Hard work paying off is always appreciated, and the recent announcement of PNC Bank choosing New Braunfels for their operations center was certainly great news.  Did you know the company looked at places to locate this operation in over 15 states over the last 18 months?  And we have more announcements pending!
Our 7th annual Corporate Challenge Golf Tournament was the most successful ever for the Foundation, despite the weather.  Our hats off to the brave 100 souls who participated and had a great time, albeit a bit on the "cool" side.  Thanks to all the great sponsors and players!
Speaking of records, the September 25th Austin- San Antonio Growth Summit held at our civic convention center set an attendance record, over 500!  New Braunfels is certainly on the radar of the development community. 
Thanks for your support of the Foundation.  If you are not yet a member, it is easy to join our team - just call (830)608-2817 or email us.  Read more about the State of the City update, PNC Bank and its 500+ new jobs, the golf tournament, and future primary job announcements.  Until then, see you at Wurstfest!
Tim Zipp, 
Chairman