Das Spiel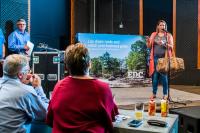 The 3rd Quarterly Das Spiel Competition was recently held on September 26, 2019 at the Downtown Social from 6-8 pm. Three competitors vied for the top prize of $1000. Audience members voted first place to go to Talia Hendry and her company, Fabric Funhouse. Talia successfully skipped the middle man and traveled to Spain to secure a manufacturer to custom create her cork fabric thus beginning her entrance into the wholesale/warehouse business. The prize money will go toward a printer that will allow her to print her own designs on cork fabric. Starting as a single employee, she is now up to 5 employees (with benefits) and plans to add more as the business grows.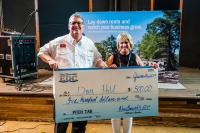 Second place was awarded to Dan Hill with EZ Nectar. Dan found a way to offer the only preservative and dye free (100% pure cane sugar and filtered water) and chemical free ready-to-use hummingbird nectar and patented ready-to-hang pre-filled disposable / recyclable hummingbird feeders (our Happy Hummers! Fast-Feeder). EZ Nectars products can be found at major grocery retailers.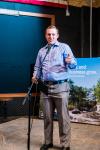 Derrek Shelley was the third place winner with his NB Savings Card idea. His idea was to provide a card to local consumers with discounts to local retail establishments. Derrek said he is focus on his product and ironing out the details and possible pitch the idea again.
The three panelist members that helped provide feedback were: Natalie Rogueux, Stephen Hanz and Bill Cone.

Das Spiel was recently rebranded from "Pitch Tab" in an effort to promote the event in a better, more comprehensible way to gain the attention of the entrepreneurial-minded people and public alike.  
The next Das Spiel date is TBD, but if you have a great business or idea, go ahead and sign up!