TELECOM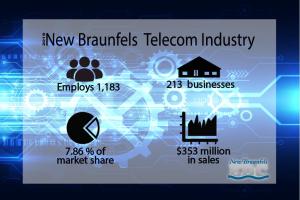 Lowe's forming a large data center cluster just 30-minutes south in San Antonio; a high-wage, reciprocal-skilled workforce will emerge and expand throughout the region. The New Braunfels region is credited with low power rates with certified consistent supply, fiber infrastructure and a stable, modern environment free from environment hazards. Potential target companies include those looking for a build-to-suit option due to the high availability of shovel-ready sites.
Telecommunications touches virtually all electronic communication and information technologies and industries. Within the industry of Telecom/Information, strong growth forecasts along the San Antonio-Austin corridor is expected. Bringing in higher wages, this industry helps to fill gaps in regional economies and can be considered a gateway to the professional services industry. The New Braunfels region has some of the brightest and best available for this industry and many have already learned just what this central Texas region has to offer. Potential niches include data storage and processing; call centers/back office and telecom gives the ability to let commuters work at home.
New Braunfels has two shovel ready sites prime for data centers within the city limits that have infrastructure in place.
Conrad's Lane
Westpointe Village
Telecom companies in the area include: