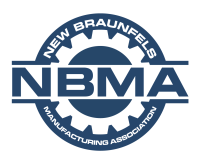 New Braunfels Manufacturing Association
The mission of the New Braunfels Manufacturing Association: 
Provide a forum for industry to share information and discuss common needs. 

Present a positive image to the community. 

Maintain a strong voice in the community regarding economic development and issues relating to manufacturing. 

Be attentive to the needs of all citizens of New Braunfels. 

Promote education and workforce development programs to engage our citizens and prepare them for great careers in manufacturing.
Regular Meetings
Regular Lunch Meetings are held on the 3rd Tuesday of each month at 11 :45. Information about the organization and news from member companies is shared, followed by a regular program featuring guest speakers. Our speakers discuss issues relevant to our local manufacturing community. Meeting attendees pay $15 to cover the cost of the meal, meeting expenses, and the meals for our speakers and invited guests. 
Scholarships
We are committed to helping people find great opportunities for careers in manu­facturing. We believe a trained workforce is key to our success. Herefore, we provide scholarships to students in degreed or certificate programs in skilled trades offered at the Central Texas Technology Center (CTTC) or accredited college or university. Scholarship guidelines and an applica­tion form is available here. 
Become a Member
Regular membership in the association is open to all industrial companies who want to improve the business environment of New Braunfels and want to network with other companies in the area. To become a member, download the application or click here to submit online.
Manufacturers       $300
Associates             $300
An associate membership is offered to organiza­tions whose alliances will further the communi­cation and working relationships of the mem­bership at large. 
For more information about the New Braunfels Manufacturing Association, visit our bylaws.