Quality of Life
 
Com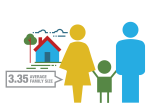 munities like New Braunfels are unique. Refined by old-world German and Hispanic heritage and complemented by an affordable and unmatched quality of life, its no wonder we now rank as the second fasted growing community in the United States. New Braunfels also boasts exceptional transportation networks, multiple universities within a 30-minute drive, pro-business leadership, tax and regulatory environment.
New companies such as Continental Automotive, PNC Bank, McCoy's, Calendar Holdings and TaskUs have already realized the advantages of a growing, well-trained, 500,000-strong workforce. These recent expansions and relocations have furthered our industry bases in manufacturing, healthcare, logistics and distribution and aviation businesses.
Plus, with over 300 days of sunshine a year and 550+ acres of outdoor water recreation, New Braunfels is a premier destination for work and play - year round.
To learn more about our Demographic Profile, click here.